The Empowering Women in Hydrography project is a global effort led by the International Hydrographic Organization and Canada that seeks to initiate, organize and track a series of activities and initiatives which will enable more women to participate equitably in the field of hydrography and to assume leadership roles within the hydrographic community. NOAA is contributing to the project via an 'at-sea experience' on NOAA hydrographic ships for three women each year over the lifespan of the project. After a global call for nominations, three women were selected to join NOAA ships for the 2023 survey season. Lt. Lucía Cattana, from the Argentine Naval Hydrography Service, joined NOAA Ship Nancy Foster from 5 to 10 July 2023, while conducting surveys off the coast of South Carolina.
Introduction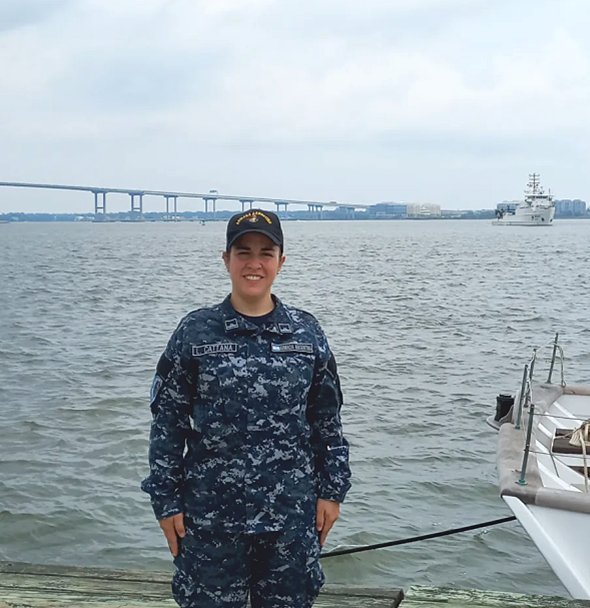 I am Lt. Lucía Cattana, and I work in the Argentine Republic's Naval Hydrography Service. In 2021, I joined the Argentine Navy as a geologist. Life has surprised me and led me down paths I never imagined, such as hydrography. In 2022, I joined the hydrography department, and from that moment, I began to train in this exciting science. Participating in this program allowed me to gain a new practical experience and become familiar with hydrographic operations and various survey techniques.
At-sea experience
On Wednesday, July 5, I embarked on the survey vessel NOAA Ship Nancy Foster in Charleston, South Carolina. On the first day, as we headed to the survey area, we received an introductory briefing about the equipment and operational systems. In the afternoon, we conducted a ship recognition and an abandon-ship drill.
Once we reached the area of interest, we began survey activities. While bathymetry was being conducted, backscatter data were collected to understand the nature of the seabed. To correct this data, a sound profile was generated using conductivity, temperature, and depth data.
Within the data collection process, it was a great novelty to use conductivity/temperature/depth profilers to obtain sound velocity profiles while underway. This reduced data acquisition time since using static sound profilers would require the ship to stop for each measurement. However, the methodology employed allowed data to be collected when a significant temperature variation was detected without the need to stop. Clearly, this translated into time optimization.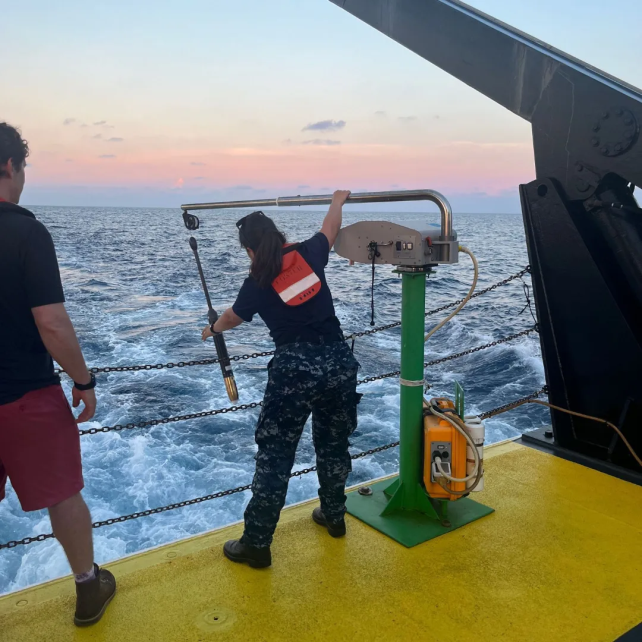 Personally, as a geologist, it was truly amazing to identify round-shaped features in the backscatter. These morphologies, as shared by the instructors, were related to the past glacial environment that existed in the region many years ago. Astonishing!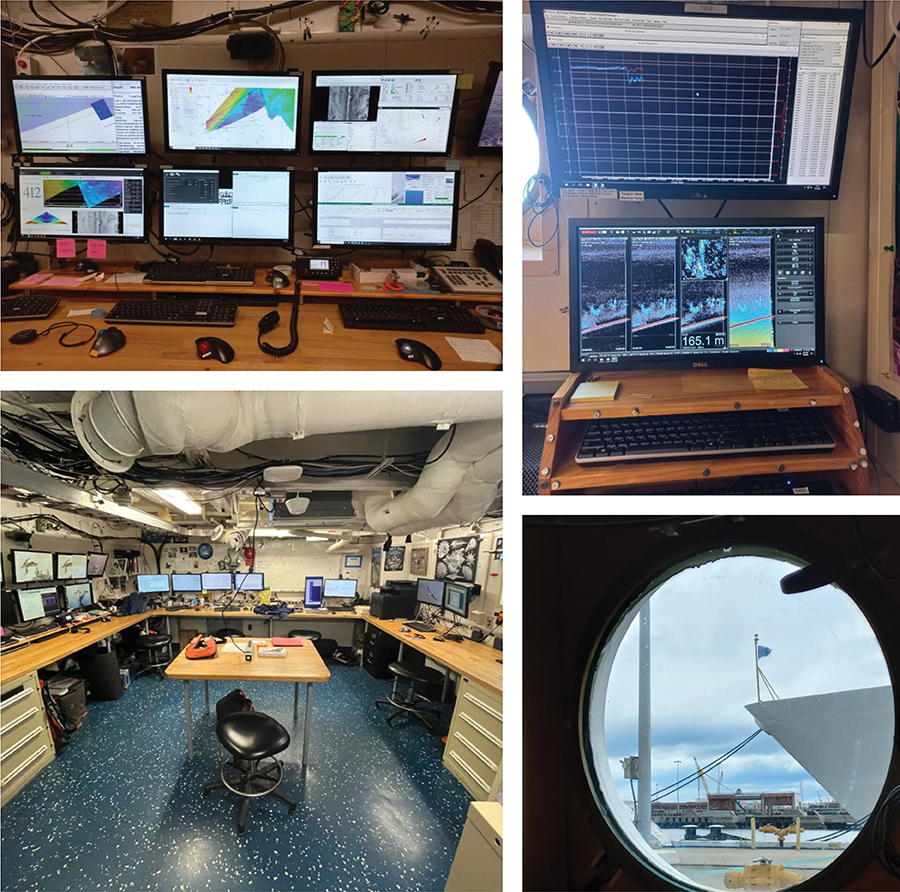 During the five days aboard Nancy Foster, I operated various hydrographic data processing equipment and software, including software for bathymetric data automation like Charlene, and software for sound profile processing, among many other open-access software developed by NOAA. I want to highlight the great willingness of the entire team to teach and share their techniques, work methods, and knowledge. During the voyage, an excellent working environment was created in which both instructors and trainees shared different work methods and personal experiences.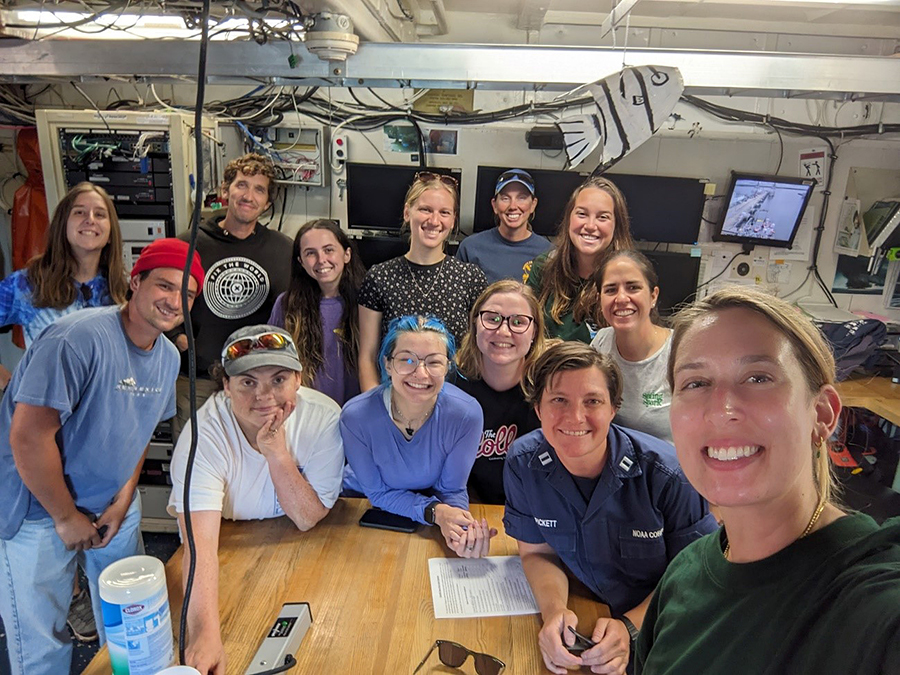 This experience was a great opportunity for both professional and personal growth, as well as for the Argentine Naval Hydrography Service, as everything I learned will be shared with my peers and will contribute to improving knowledge and skills for hydrographic information production, enhancing data acquisition and processing capabilities. Without a doubt, it will contribute to the Argentine Naval Hydrography Service's fundamental objective of providing public navigation safety services, with nautical cartography being one of the tools to achieve this goal. It is important to highlight that contact with other hydrographers allowed me to exchange ideas and experiences on how to work in different situations.
I would like to thank the International Hydrographic Organization and the National Oceanic and Atmospheric Administration for this great opportunity to train aboard NOAA Ship Nancy Foster, alongside professionals willing to teach and share their experiences.
The sea experience aboard Nancy Foster provided me with many tools that I can now begin to share with my organization to contribute to the efficiency of data acquisition and management. I want to highlight and thank Mrs. Christy Fandel and Mrs. Alexis Maxwell for their help and unconditional support throughout the process, from the documentation I had to submit to embarkation and even during my return. Special mention goes to L.t. j.g. Airlie Pickett and the entire crew who made this an unforgettable experience aboard the Nancy Foster.