The Empowering Women in Hydrography project is a global effort led by the International Hydrographic Organization and Canada that seeks to initiate, organize and track a series of activities and initiatives which will enable more women to participate equitably in the field of hydrography and to assume leadership roles within the hydrographic community. NOAA is contributing to the project via an 'at-sea experience' on NOAA hydrographic ships for three women each year over the four year lifespan of the project. After a global call for nominations, three women were selected to join NOAA ships for the 2022 survey season. Chiaki Okada from the Hydrographic and Oceanographic Department, Japan Coast Guard, joined NOAA Ship Thomas Jefferson from July 25 to August 6, 2022 while surveying the Great Lakes.
By Chiaki Okada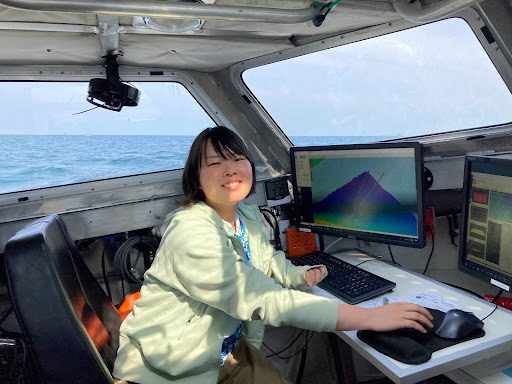 Hello, everyone! I'm Chiaki Okada from the Hydrographic and Oceanographic Department, Japan Coast Guard (JHOD). Thankfully, I could receive a wonderful opportunity to participate in the NOAA survey cruise of the Great lakes on NOAA Ship Thomas Jefferson this summer. Thank you so much to all of the people who were involved in my experience and support me in many parts. I would like to share my activities and findings on Thomas Jefferson with you.
Introduction
Before diving into my activities log, I would like to introduce myself. I entered JHOD in 2015 and experienced some survey cruises including deep sea mapping, seismic surveys, seafloor observation with remotely operated vehicles and drilling surveys around Japanese islands. Throughout my career, I wanted to understand the theoretical part of hydrographic surveys and increase my practical survey experiences. My sparked interest in hydrography drove me to apply for the Nippon Foundation/GEBCO Training Program, taking part in this training program for one year beginning in August 2021. As one of the international students of this training program, I was initiated into enormous hydrographic knowledge through several courses and labs at the Center for Coastal and Ocean Mapping / Joint Hydrographic Center, University of New Hampshire. Once complete, I received the certificate of Category A course just two weeks before my at-sea experience! So, this at-sea experience means wrapping up my overall hydrographic training for over a year and getting ready to go back to the front line of JHOD's survey works.
My at-sea experience
This season of 2022 became a special year for Thomas Jefferson because she engaged in several hydrographic surveys on the Great Lakes to update nautical charts for the first time in over 50 years. This is the first time for me to visit the Great Lakes and survey only freshwater environments so I really looked forward to joining this experience.
My onboard experience was assigned to hydrographic surveys of Lake Erie between July 25 and August 5, 2022. I arrived at the ship the day before the departure in Cleveland, Ohio. The next day, ship crews explained the rule to stay aboard and conducted a ship tour. They also introduced me to emergency billets during this leg. Each crew is allocated different roles and places to rush in cases of emergency, for example, on fire and man overboard. These roles are posted near the mess deck and distributed to everyone at the beginning of a cruise. Also emergency drills are scheduled weekly to react to each emergency signal and come running to their station. The departure day helped me understand Thomas Jefferson deeper and at ease settling on the ship. After greeting survey teams and witnessing the launch operation on the first day, we departed Cleveland at 1100.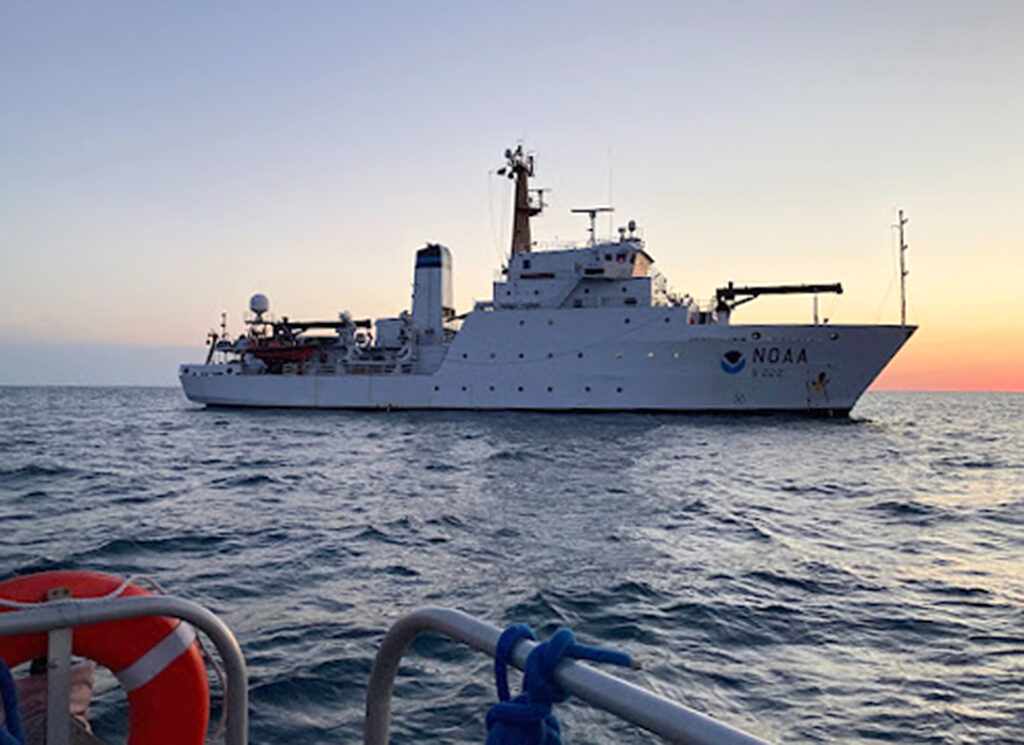 Crews normally operate Thomas Jefferson and two launches simultaneously for this project. Survey teams review the survey progress and coverage on a daily basis and reflect on the next day's operation plan. I was offered to participate in both survey activities with Thomas Jefferson and launch during my experiences.
Ship-based mapping
For the first few days after the departure from Cleveland, I worked as a morning watch of ship-based mapping surveys off Erie, Pennsylvania. Kongsberg EM710 and EM2040 multibeam echo sounders are mounted on the ship's keel for shallow water mapping and data acquisition. As the ship is always moving and affected by waves and winds, real time position and attitude information are recorded and provided by Applanix POS MV into the Seafloor Information System and merged with sounding data. Survey lines are planned by the survey team to meet NOAA Hydrographic Survey Specification and Deliverables and shared with bridge operators with a navigation display on Hypack. Bathymetric data were logged on the Seafloor Information System for EM2040 and followed automated post-processing procedures on Charlene (Pydro explorer).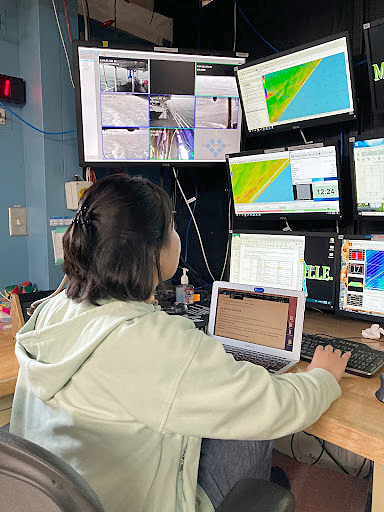 This series of steps for data acquisition was not hard for me because I am familiar with almost all the equipment and software used for the ship-base mapping. That made me more relieved and relaxed to get into the workflow. However, collecting sound speed profiles with the moving vessel profiler is a new activity for me. During hydrographic surveys at JHOD, we always use expendable sensors such as bathythermographs and conductivity/temperature/depth profilers to obtain in situ sound speed profiles. So, I think it's a better choice to collect sound speed profiles while underway and reuse the probe for next time. We don't need to waste a tremendous amount of equipment!
Launch survey experience
During the latter half of my cruise, I became a member of a launch survey team and collected data near Presque Isle, Pennsylvania. Basically we used the same instruments found on Thomas Jefferson and followed the same data acquisition method except for using the conductivity/temperature/depth profiler instead of the moving vessel profiler. One of the big differences in survey style between Thomas Jefferson and her launches is the allowance depth for a survey. The ship could approach as shallow as we could manage, however our activities were restricted by the ship's draft. While Thomas Jefferson's draft is 15 feet (5 meters), the survey launch's draft is less than 3 feet (1 meter). The short draft vessel expands our capability to get more nearshore data even inside the bay or closer to the canal. Also, the small vessel has an advantage of a quick and sensitive driving response, which is useful in the heavier traffic area. While we ran the launch near Presque Isle Bay, many people enjoyed their weekend with yacht sailing, fishing and swimming in the same area. The launch coxswains manage a lot of information while maneuvering but they always help survey teams get more data.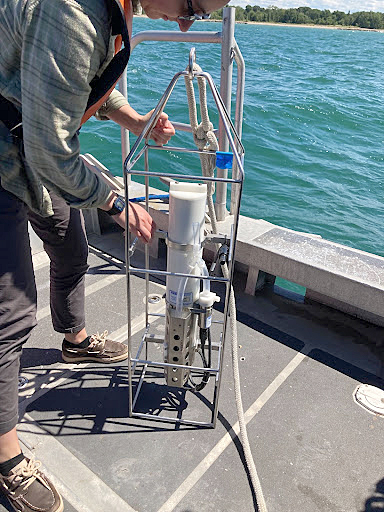 Another difference I noticed about surveys with a launch is the shoreline survey. Usually survey teams set line plans beforehand and share them with bridge operators or a coxswain while surveying on Thomas Jefferson or deep-sea mapping. On the survey launches, we sometimes use line plans but a coxswain mainly runs a launch following the edge of the last line coverage in the shallower area. This survey style is called shoreline survey. I guess a shoreline survey does not require a longer time for the survey preparation but the driving technique of coxswain and proper and quick decision of survey technician is necessary.
The unique point for this leg was sunrise launching. Usually, we have a small boat safety briefing on the morning of launch survey day and confirm the plan of the day and safety requirements. Following the normal schedule, the safety briefing starts at 0745 and the launching is done around 0800. That schedule makes launch recovery happen after dinner time and forces survey teams to work late to finish data processing. So, we tried to start the launching at 0600 and come back to Thomas Jefferson around 1600. Getting ready in the dark sky before sunrise was not easy for me but made my mind refreshing and focused on a new survey. Moreover the sunrise to see from the launch was definitely amazing! These scenes became the best parts of my at-sea experience.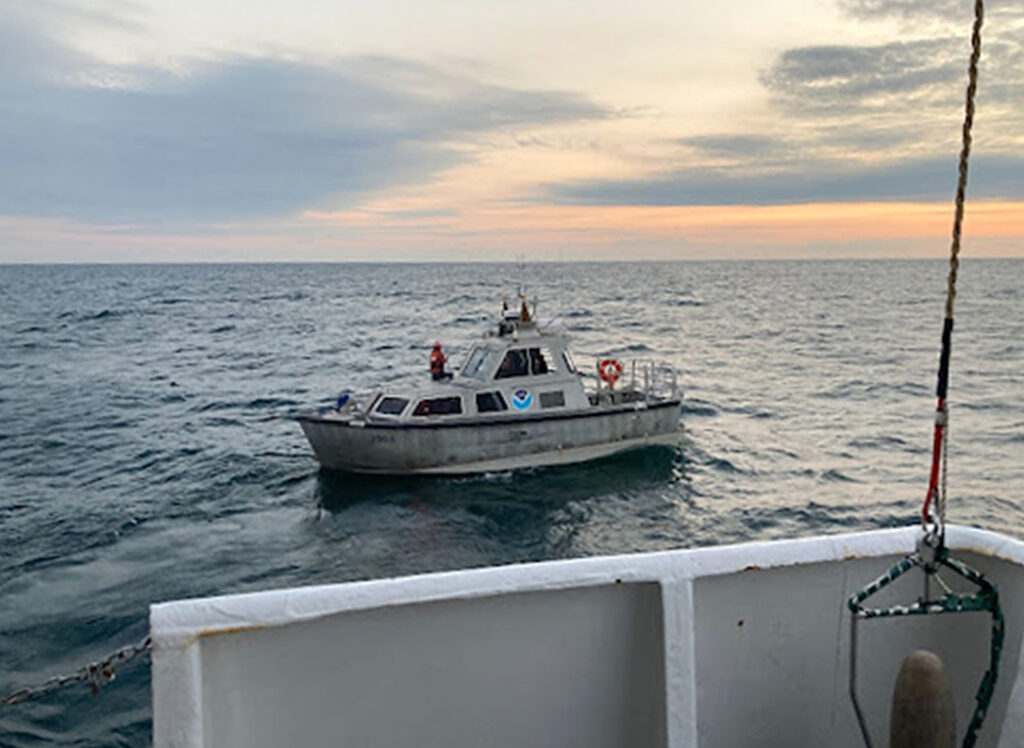 Personal logs
Throughout my experience on Thomas Jefferson, I was impressed by the close communication between ship crews. Crews are composed of people of a wide range of ages and different backgrounds, such as NOAA Corps and wage mariners in most departments aboard. In case some people should leave the ship due to the tentative training program or holidays for weeks, augmenters are prepared and work together with the original crews. As there is barely any onboard work to be done with only one person, dense communication and open relationships are essential to carry out professional survey operations and I think Thomas Jefferson's crews are enhanced to establish proper relationships. NOAA Corps members come to the survey room and stay there to be on the survey watch with survey team members. They sometimes have bridge watch duties during other periods in the day. That helps deck officers to understand survey operations and open up with other onboard members.
On the point of Empowering Women in Hydrography, I was also surprised that many female members engaged in activities on the ship. When I participated in survey cruises at the JHOD, I was usually the only female on the survey vessel among more than 30 people. Although the number of female staff is different depending on the crew change and coming augmenters, there are some women in deck officers and survey teams and they have important roles to contribute to their mission. It became a good experience to work with many energetic female crews during this experience.