The Empowering Women in Hydrography project is a global effort led by the International Hydrographic Organization and Canada that seeks to initiate, organize and track a series of activities and initiatives which will enable more women to participate equitably in the field of hydrography and to assume leadership roles within the hydrographic community. NOAA is contributing to the project via an 'at-sea experience' on NOAA hydrographic ships for three women each year over the lifespan of the project. After a global call for nominations, three women were selected to join NOAA ships for the 2023 survey season. Lt.j.g. Liezel Bastez, a hydrographer surveyor from the Hydrography Branch under the National Mapping and Resource Information Authority (NAMRIA) of the Philippines, joined NOAA Ship Thomas Jefferson from 27 May to 9 June 2023 while surveying the Gulf of Mexico Galveston, Texas.
By Lt.j.g. Liezel Bastez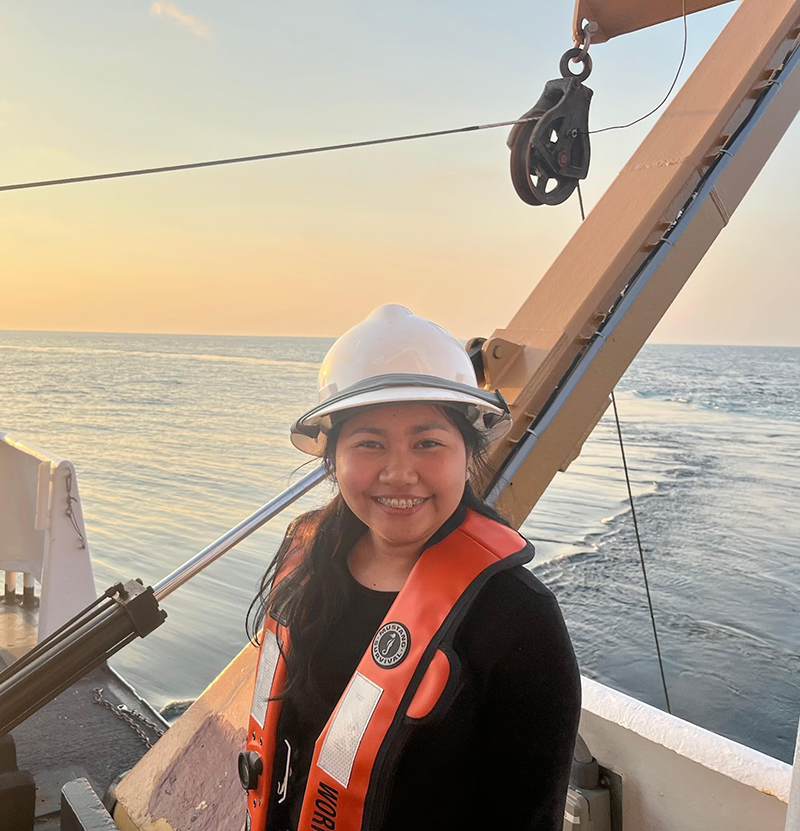 Mabuhay! Let me introduce myself first. I am a commissioned officer with experience in conducting hydrographic surveys in ports and harbors, archipelagic water, and some offshore surveys. I was recently assigned to land-based and currently support vessel operations. My experience, current post, and schedule flexibility provided the opportunity to apply and be accepted for the International Hydrographic Organization's Empowering Women in Hydrography program. For someone who does not have formal training yet, I am looking forward to this exciting and great experience.
NOAA Ship Thomas Jefferson and her complement
I was privileged to join NOAA Ship Thomas Jefferson, one of several NOAA survey vessels equipped with hydrographic instruments, and received a warm welcome from the NOAA Commissioned Officer Corps, crew members, and scientists aboard. We were also joined by Mr. Anthony Klemm, one of the physical scientists of NOAA and a former NOAA Corps officer.
During survey operations, I was astounded at the established rapport and communication between all team members. One of the first things I felt was that the ship environment had no gender bias. Both male and female crew perform the same survey tasks such as deployment and retrieval of hydrographic survey equipment, bottom sampling, manning the survey launches and performing other deck and navigation duties. To highlight, the Operations Officer is Lt. Sydney Catoire and the Chief Scientist is Ms. Erin Cziraki, among other women scientists and crew demonstrating the equal opportunity women have aboard. They take major roles in decision making for the survey operations of the vessel.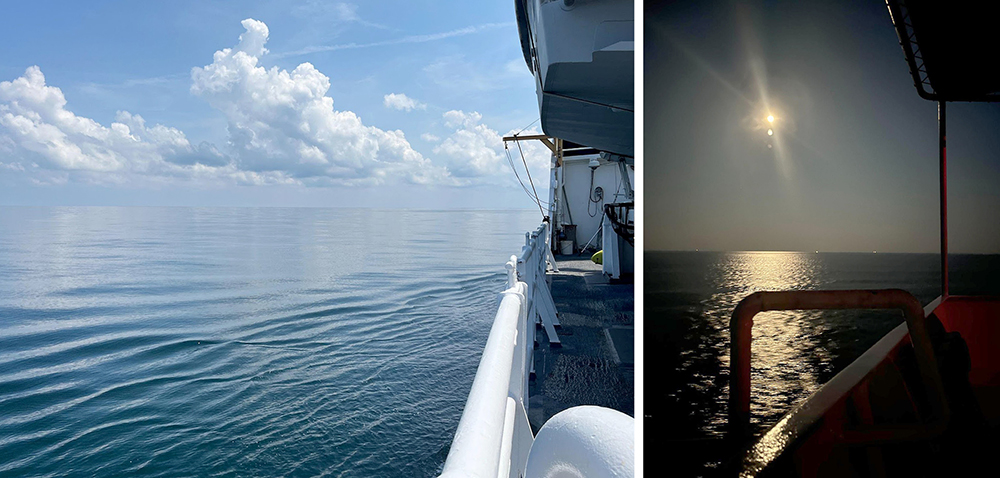 Survey capabilities and survey operations
Thomas Jefferson carries two hydrographic survey launches, 2903 and 2904, which were periodically deployed throughout the duration of the project. All survey platforms are equipped with a multibeam echosounder system and side scan sonar. The multibeam and side-scan are run simultaneously to cover the survey areas. This kind of setup is something new to me; survey platforms of NAMRIA primarily use multibeam to gather data and side-scan is only utilized during search operations. While with NOAA, multibeam is the primary tool to gather data that is translated into a chart and side-scan is concurrently used to verify that no significant feature is present in the uncovered areas between the main survey lines and no further data collection is needed. In the case of feature detection in the side-scan data, a multibeam echo sounder line is run over the feature to gather additional data. This setup is very efficient for shallow areas with no significant features and relatively flat surface.

Within the duration of the leg, I was able to monitor the acquisition systems of both the ship and the motor launch. Duties and survey plans are posted daily through the plan of the day. During my shifts on the Thomas Jefferson and the launch, I was mentored by the hydrographer-in-charge (HIC) and all questions were welcomed and generously entertained which made it easier and more comfortable to learn. They gave me time to familiarize myself with the system, which is the best way to learn–by actually doing and experiencing it. It feels great to be trusted enough to actually be in the "seat" and be part of the survey team. I hadn't yet been able to use the side-scan at home but aboard the Thomas Jefferson, I was able to use it every day–new skill unlocked! From dump sites to swimming dolphins, side-scan is able to "picture" the seafloor. During my off shifts, I was able to learn some side-scan data management.
As a HIC, regular deployment and retrieval of the side-scan tow fish and moving vessel profiler (MVP) were also part of the routine. Time and staff were fully utilized to maximize efficiency.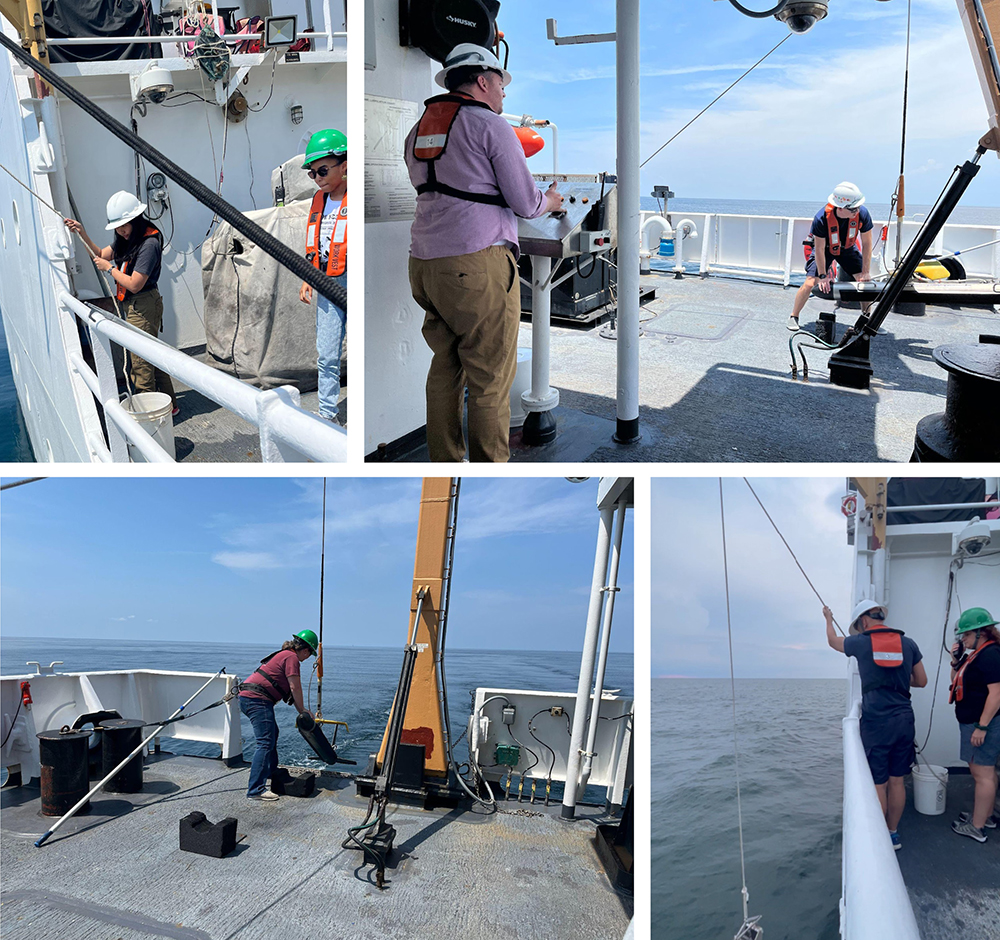 Weekly conduct of safety drills are also part of the regular activities of Thomas Jefferson. All hands are required to participate in drills and familiarize themselves with station bills. In addition, during the survey department meetings, Mr. Klemm was able to discuss initiatives about crowdsourced bathymetry and shared new tools/techniques for elimination of fliers. They also spared me some time for an introduction and quick presentation about NAMRIA and our nature of work. It has been fun sharing experiences and exchanging stories about work and other related activities.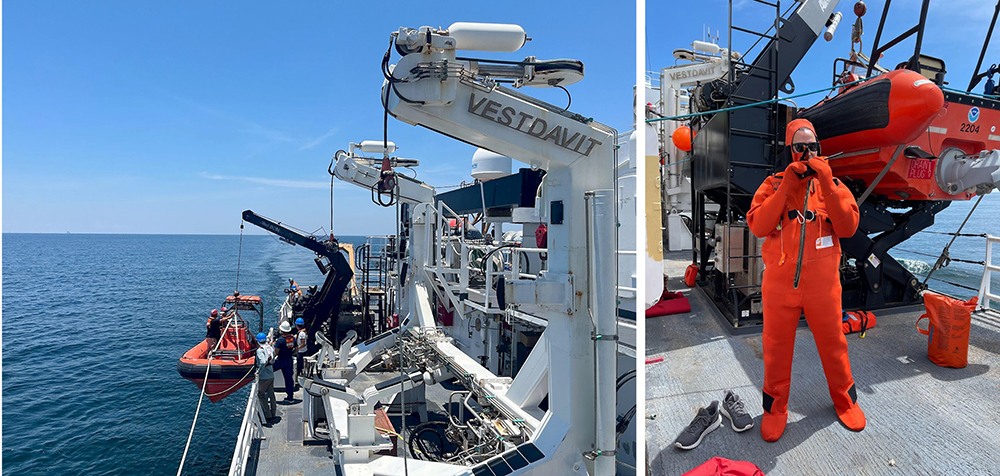 Underway on the return to port, one of the highlights of my experience was the docking operations at the bridge of Thomas Jefferson. Lt. Catoire conned the vessel with the commanding officer and executive officer overseeing—every command and execution was exhilarating. We safely docked at the Galveston Port, formally completing the survey leg.
And now is the time to bid farewell.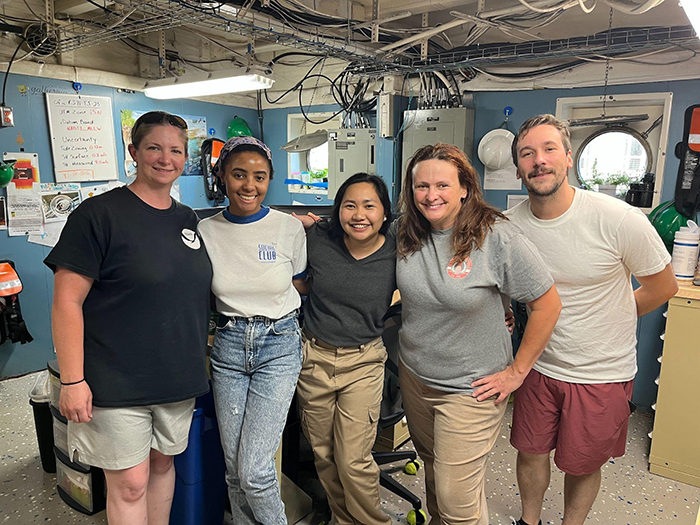 Throughout the whole process, from pre-departure documents to actually boarding the ship and even during my return to my homeland, NOAA guided me and never left me once. Special thanks to my coordinators Ms. Alexis Maxwell, Mr. Anthony Klemm, and Ms. Christy Fandel. It has been an exciting roller coaster ride for someone who had not been out of her country—thrilled and liberated, that I am.
Takeaways and Learnings
Each nation has similarities and differences but has one goal and that is to survey all the world's seas and waters. The at-sea experience aboard NOAA Ship Thomas Jefferson showed me a different perspective on surveying and I have learned so many tools which I can begin to share with my organization to contribute to the efficiency of data acquisition and management.
Main take away—working efficiently means working with minimal resources but yielding maximum output without compromising the safety and welfare of the ship and her crew.