Congratulations to Seascape Alaska! The Intergovernmental Oceanographic Commission of the United Nations Educational, Scientific and Cultural Organization recently endorsed this important regional mapping campaign as part of the UN Decade of Ocean Science for Sustainable Development 2021-2030 (Ocean Decade), in part for its contributions to The Nippon Foundation-GEBCO Seabed 2030 Project.
Seascape Alaska began in 2021 in response to the 2020 National Strategy for Mapping, Exploring, and Characterizing the United States Exclusive Economic Zone and the Alaska Coastal Mapping Strategy. With Alaska's coastal and ocean waters at just over 1 million square nautical miles in size and 66% unmapped, the campaign seeks to fully map U.S. waters deeper than 40 meters by 2030 and coastal waters by 2040 through collaborative efforts among federal, tribal, state, and non-governmental partners with a wide range of interests and dependencies on mapping data. This campaign brings the Interagency Working Group on Ocean and Coastal Mapping and the Interagency Working Group on Ocean Exploration and Characterization federal members together with state, tribal, academic, private and other non-government sectors to share mapping plans and advance technical innovations to more efficiently map and characterize the area.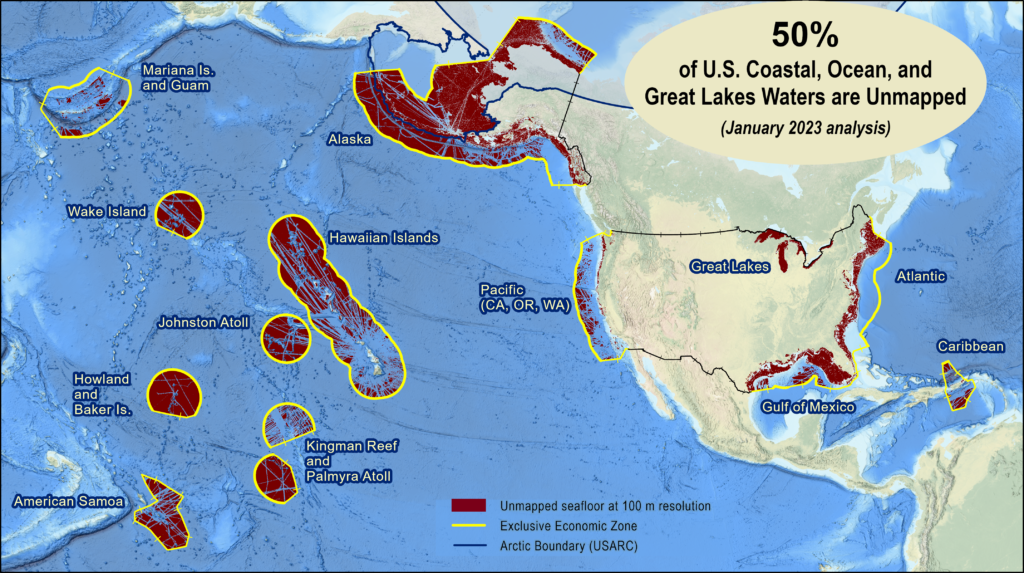 Seascape Alaska members are excited about several mapping expeditions and multi-partner projects underway and planned for the 2023 survey season.
From May through September 2023, the National Oceanic and Atmospheric Administration (NOAA) will lead a series of Seascape Alaska expeditions on NOAA Ship Okeanos Explorer, with a particular focus on the Aleutian Islands, Gulf of Alaska, and Aleutian Trench. This work will be done in collaboration with numerous partners, including scientists and managers from across NOAA, management agencies in the region, and the global ocean science community, including the AleutBio team—another Ocean Decade endorsed project—which shifted its research in 2022 from the western to the eastern U.S. part of the Aleutian Trench.

From July to September 2023, NOAA and the U.S. Geological Survey (USGS) will also conduct a Seascape Alaska (USGS Kodiak) project on NOAA Ship Fairweather across a large portion of the Southern Alaskan continental margin, offshore of the Alaska/Kenai Peninsulas, between 200- to 1500-meter water depth. Project results will improve USGS' earthquake, tsunami, and landslide hazard assessments and forecasting, and NOAA Fisheries' delineation of trawlable and untrawlable seabeds for sustainable management of Gulf of Alaska fish stocks. In addition, hydrographic data collection operations in Alaska by NOAA's Office of Coast Survey and its contracting partners using uncrewed systems will be significant this year.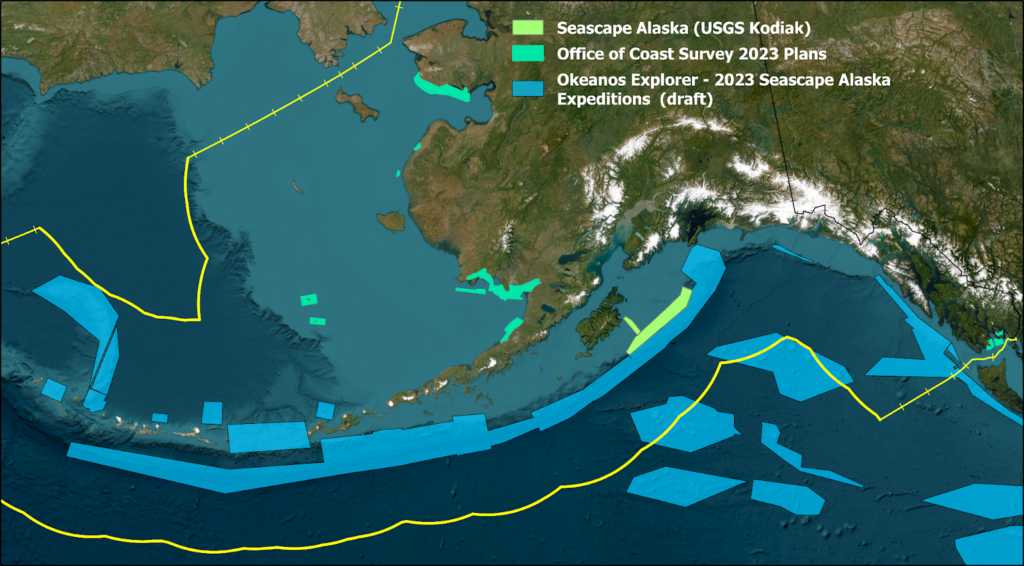 The U.N. endorsement is a recognition that Seascape Alaska will play a central role in supporting the Ocean Decade mission to catalyze transformative ocean science solutions for sustainable development and the Ocean Decade vision of "the science we need for the ocean we want." The U.N. Ocean Decade Seabed 2030 Project is committed to building the necessary technical, scientific, and management framework to compile all available seabed mapping information into a seamless digital map of the world's ocean floor by 2030.