Meet our FY2024 Brennan Matching Fund partner at the upcoming August 10 webinar for the 2025 Rear Admiral Richard T. Brennan Ocean Mapping Fund program! The National Oceanic and Atmospheric Administration (NOAA) is pleased to announce our partnership with the State of Connecticut's Department of Energy and Environmental Protection (CTDEEP) on behalf of the Steering Committee for the Long Island Sound Cable Fund (LISCF) for a hydrographic surveying project in Long Island Sound. The LISCF Steering Committee project was selected for the Brennan Matching Fund from last year's round of applicants. Register for the August 10 informational webinar to learn about the new 2025 funding opportunity and to hear from a CTDEEP representative about their experience with the mapping matching fund process!
NOAA's ocean and coastal mapping programs annually invite non-Federal entities to partner on jointly-funded mapping projects of mutual interest under the NOAA Rear Admiral Richard T. Brennan Ocean Mapping Fund program. Known as the Brennan Matching Fund, NOAA will match up to five selected non-Federal partners at a 70:30 NOAA to partner ratio for contract mapping projects totaling up to $1,000,000 in ocean, coastal and/or Great Lakes waters. Selected non-Federal partners benefit from this opportunity by leveraging NOAA's contracting (NOAA has a pool of pre-qualified technical experts in surveying and mapping) and data management expertise. This ocean and coastal mapping funding opportunity is subject to the availability of funds; click here for the Federal Register Notice describing the Brennan Matching Fund.
This funding opportunity relies on NOAA's mapping, charting, and geodesy expertise, appropriated funds, and its authority to receive and expend matching funds contributed by partners to conduct contract surveying and mapping activities. The LISCF Steering Committee proposal sought comprehensive coverage of the Central Long Island Sound (CLIS) Area of Interest (AOI) shown in the graphic below. This project will provide updated, complete coverage bathymetry and backscatter data for the CLIS AOI using advanced high-resolution multibeam echosounder systems (MBES). This bathymetry and backscatter data will help CTDEEP and the LISCF Steering Committee identify benthic characteristics potentially affecting the feasibility of installing electric transmission cables and support examinations of possible alternative routing options, as well as support future seafloor habitat studies, decision-making, and policy development. Additionally, the data will improve NOAA's nautical charts and other mapping products supporting safe navigation and coastal resilience.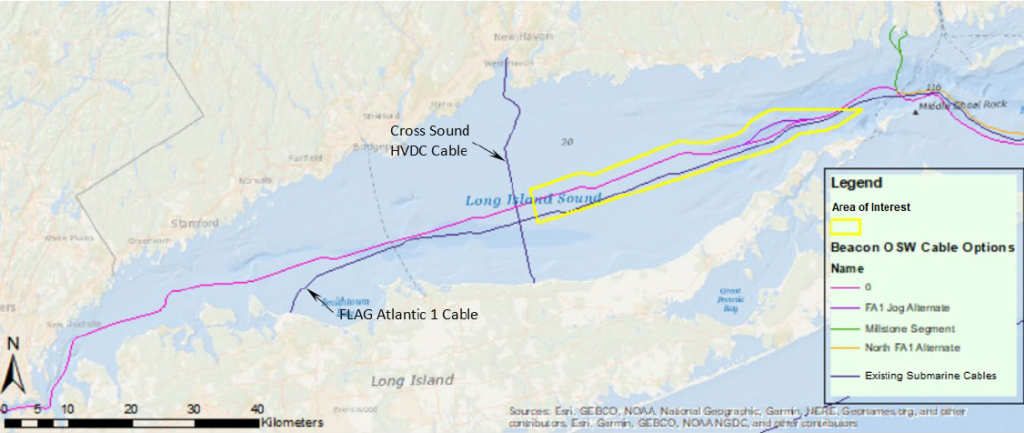 The Brennan Matching Fund commemorates the vision of NOAA's Rear Adm. Richard T. Brennan, former Coast Survey Director, who passed away in 2021. Rear Adm. Brennan was a champion of Coast Survey's hydrographic knowledge and expertise to fulfill many coastal and ocean mapping needs under the Integrated Ocean and Coastal Mapping (IOCM) banner to "Map Once, Use Many Times." He understood that knowledge of the seafloor's depth, shape, and composition has far-reaching benefits, including safer navigation, hazard mitigation for coastal climate resilience, preservation of marine habitats and heritage, and a deeper understanding of natural resources for sustainable ocean economies. He also knew that mapping the full extent of U.S. coastal, ocean, and Great Lakes waters would mean relying on partnerships to combine resources and expertise.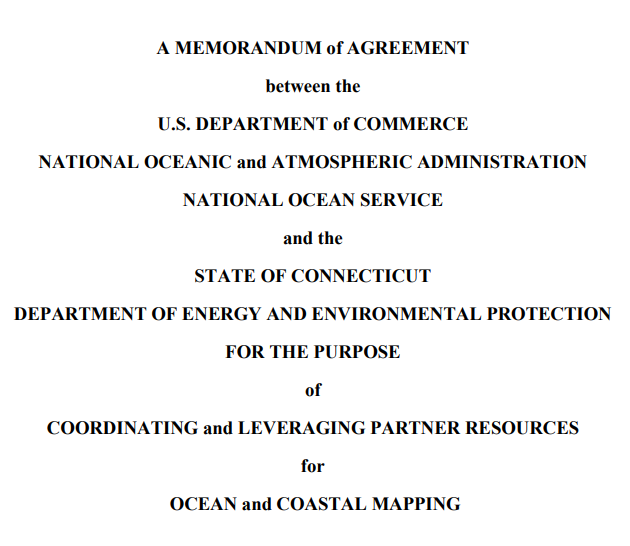 NOAA and CTDEEP signed a memorandum of agreement in 2023 to transfer CTDEEP funds to NOAA to contract for the surveying and mapping activities in 2024. The CLIS AOI project, and the Brennan Matching Fund as a whole, expand our collaborative partnerships and mapping efforts to fill data gaps in our ocean, coastal and Great Lakes waters.
Join the August 10, 2023, webinar and learn more about the Brennan Matching Fund! Contact the IOCM Team at iwgocm.staff@noaa.gov with any questions.