Coast Survey's mobile navigation response teams (NRT) conduct hydrographic surveys to update NOAA's suite of nautical charts. The teams are strategically located around the country and remain on call to respond to emergencies speeding the resumption of shipping after storms, and protecting life and property from underwater dangers to navigation.
Speeding the re-opening of ports and protecting lives
U.S. ports and waterways handle more than 2 billion tons of domestic and import/export cargo annually. Delays in shipping, even minor ones, cost the economy millions each year.
When hurricanes make landfall, they often bring with them stronger-than-normal ocean currents that can shift navigational channels and bring debris that can threaten the ability of vessels to navigate safely along the coast.
Working with Coast Survey's regional navigation managers, NOAA's navigation response teams (NRT) work around-the-clock after a storm to speed the reopening of ports and waterways.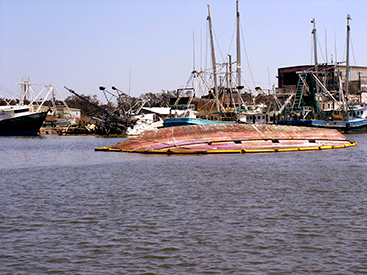 Vessels damaged by hurricanes create hazards to navigation
The teams operate trailer-able survey launches equipped with multibeam and side scan sonar which help identify dangers to navigation. When necessary, NRTs also have the capability to set up survey equipment onboard vessels of opportunity or deploy autonomous vehicles.
During emergency response the NRTs provide time-sensitive information to the U.S. Coast Guard or port officials, and transmit data to NOAA cartographers for updating Coast Survey's suite of navigational charts. The teams also respond to maritime incidents such as vessel groundings, sinkings, or cargo loss that may require underwater searches to mitigate risk to life and property.
NOAA's navigation response teams dramatically improve navigation safety, protect homeland security, and speed economic recovery.
Requesting NRT Assistance
Requests for a NOAA navigation response team originate from the U.S. Coast Guard Captain of the Port, state pilot association, port authority, or U.S. Army Corps of Engineers office. Requesters work with NOAA's navigation managers to identify mission objectives and define the deliverable products