By Lt. Cmdr. Bart Buesseler
At 8:29, on the morning of Friday, November 30, 2018, a magnitude 7.1 earthquake shook Anchorage, Alaska, for thirty stressful seconds. It was the largest earthquake in Anchorage since the Good Friday Quake of 1964, and brought Alaska's most populated city to a standstill as residents evacuated buildings and came to terms with what they had just experienced.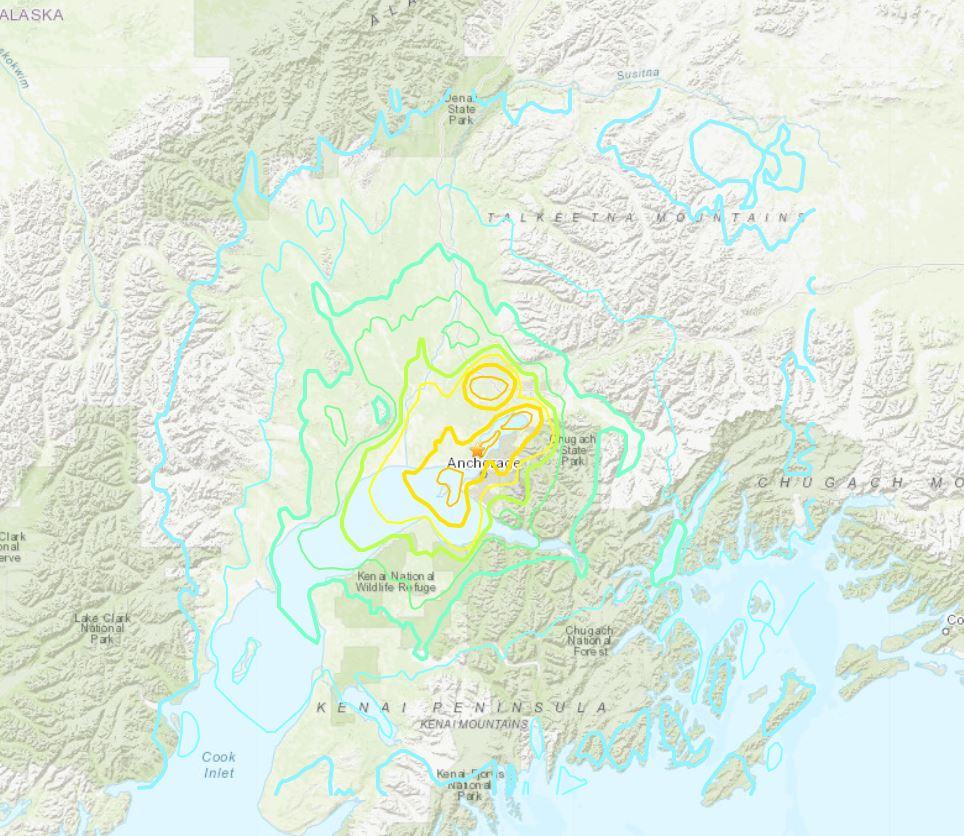 As soon as the shaking stopped and the first aftershocks had passed, it was apparent the strict building codes adopted following the '64 quake had worked as intended. No buildings collapsed and only a small handful of roads experienced damage. At the Port of Alaska in Anchorage, the news was also good with no significant damage observed above the waterline. Nobody knew if anything had happened underneath the water, however.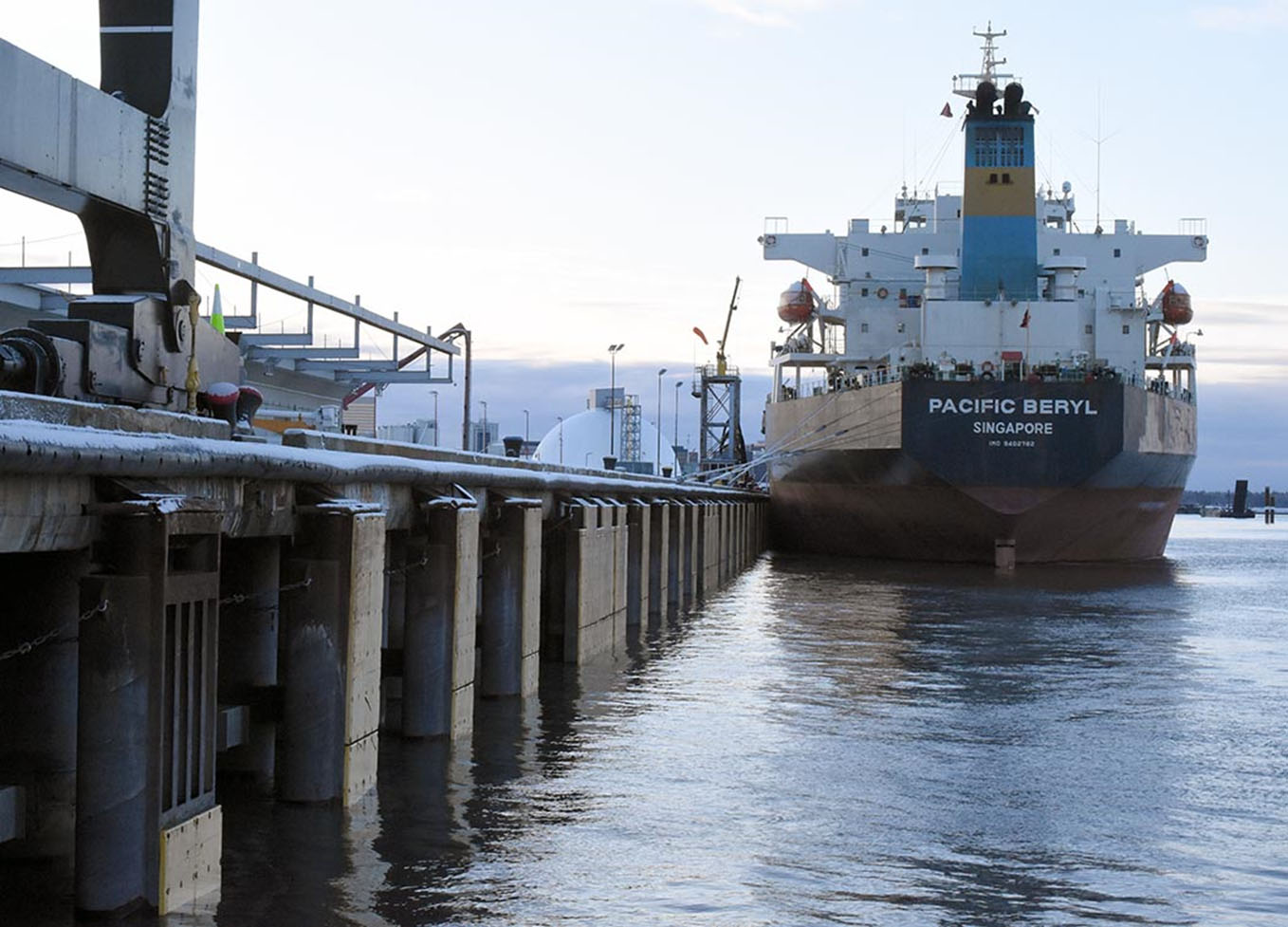 As Cook Inlet's seafloor is largely made up of glacial till, mud, and sand, there was considerable concern that the earthquake may have caused this soft seafloor to shift. These shifts could fill in or encroach critical navigation routes, presenting a risk that needed to be addressed. The question for Anchorage quickly became how to support the safe navigation of vessels into and out of the Port of Alaska, a critical infrastructure component that provides a vast majority of goods, including food, for Alaskans across the state.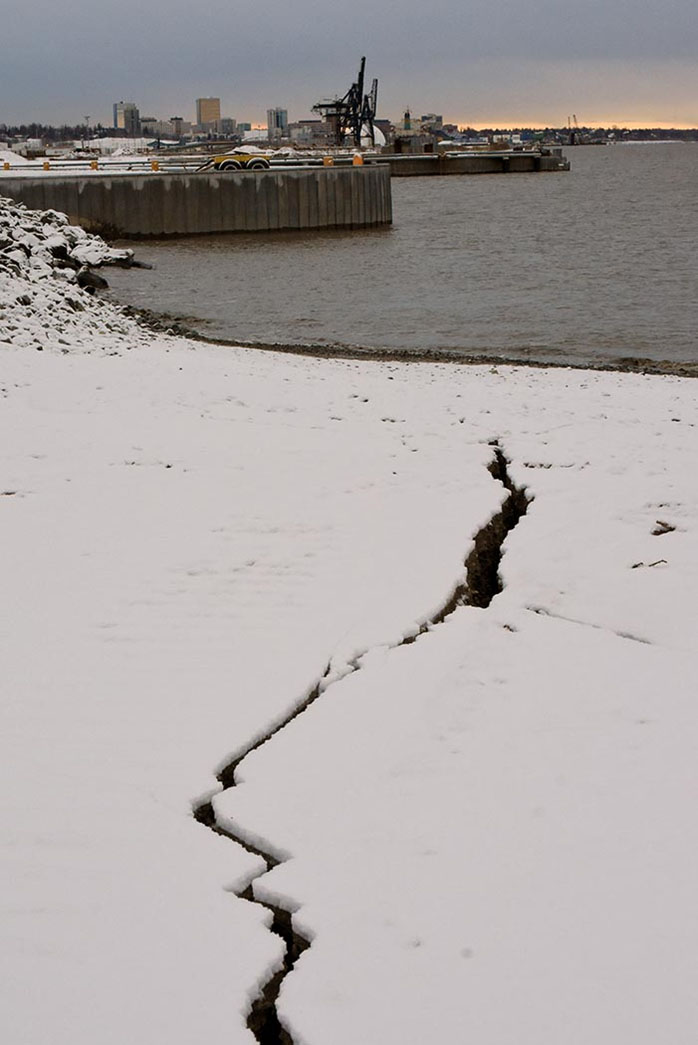 Answering this question was an interagency effort that included Coast Survey's regional navigation manager for Alaska, Sector Anchorage of the United States Coast Guard (USCG) District 17, the United States Army Corps of Engineers (USACE) Alaska District, and the Southwest Alaska Pilots Association (SWAPA).
Given the critical importance of the port, the Alaska District of USACE kicked off response efforts by the afternoon of November 30, deploying their survey team to evaluate the Cook Inlet Navigation Channel and pier faces at the Port of Alaska. These locations represent the shoalest points and greatest risks for ships on their transit into the port, and verifying their safety was an essential first step for resuming vessel movements. By the following morning, USACE had verified that these critical areas were still safe, allowing the oil tanker that had been alongside the pier during the quake to depart and an inbound container ship to remain on schedule for a Sunday arrival.
With the critical points addressed at the port, concern shifted to the northbound and southbound navigation routes in Cook Inlet. Working with SWAPA Pilots, who safely navigate the large vessels that call on the Port of Alaska, Coast Survey's regional navigation manager identified key areas along these routes for response surveys. These areas encompassed known hazards that might have shifted, underwater slopes that might have sloughed off and encroached routes, and sand bars where any changes in depth could be hazardous. While these risks could be mitigated by using the Cook Inlet's extreme tidal ranges in conjunction and reconnaissance from support vessels, high quality surveys were needed to ensure the safety of navigation along these routes.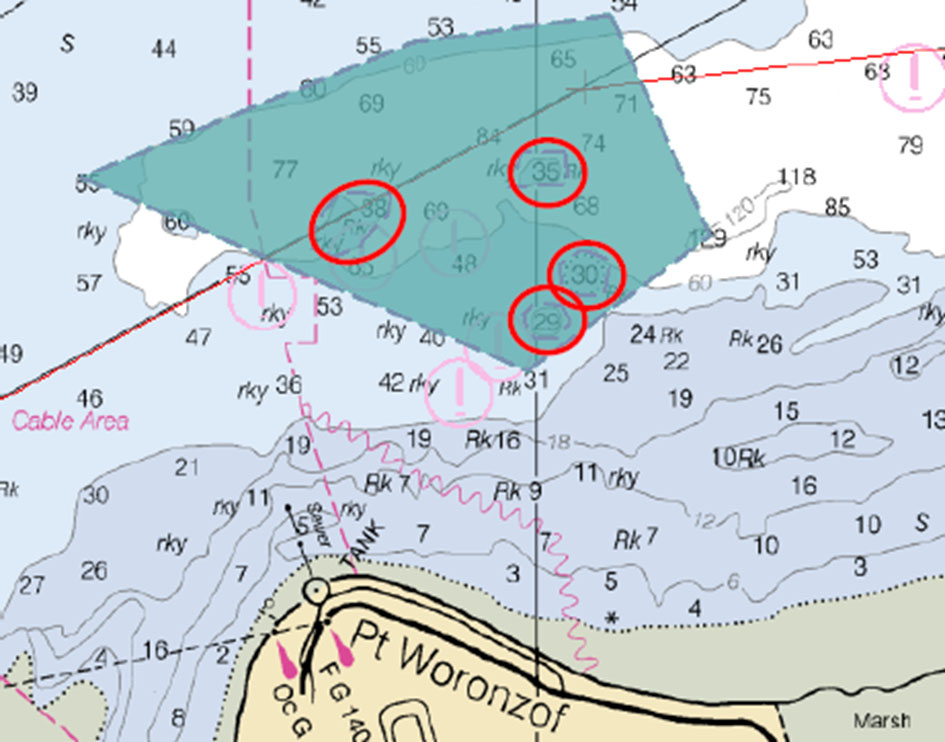 Based on this feedback, Coast Survey executed an emergency contract to survey these areas as quickly as possible. Where a normal contract takes months of preparation, Coast Survey had one of its contract partners, eTrac, out and surveying the area by December 8, only eight days after the quake. Not only was this a race to verify the safety of the route, it was also a race against the rapidly forming ice in Cook Inlet which had the potential to derail survey operations.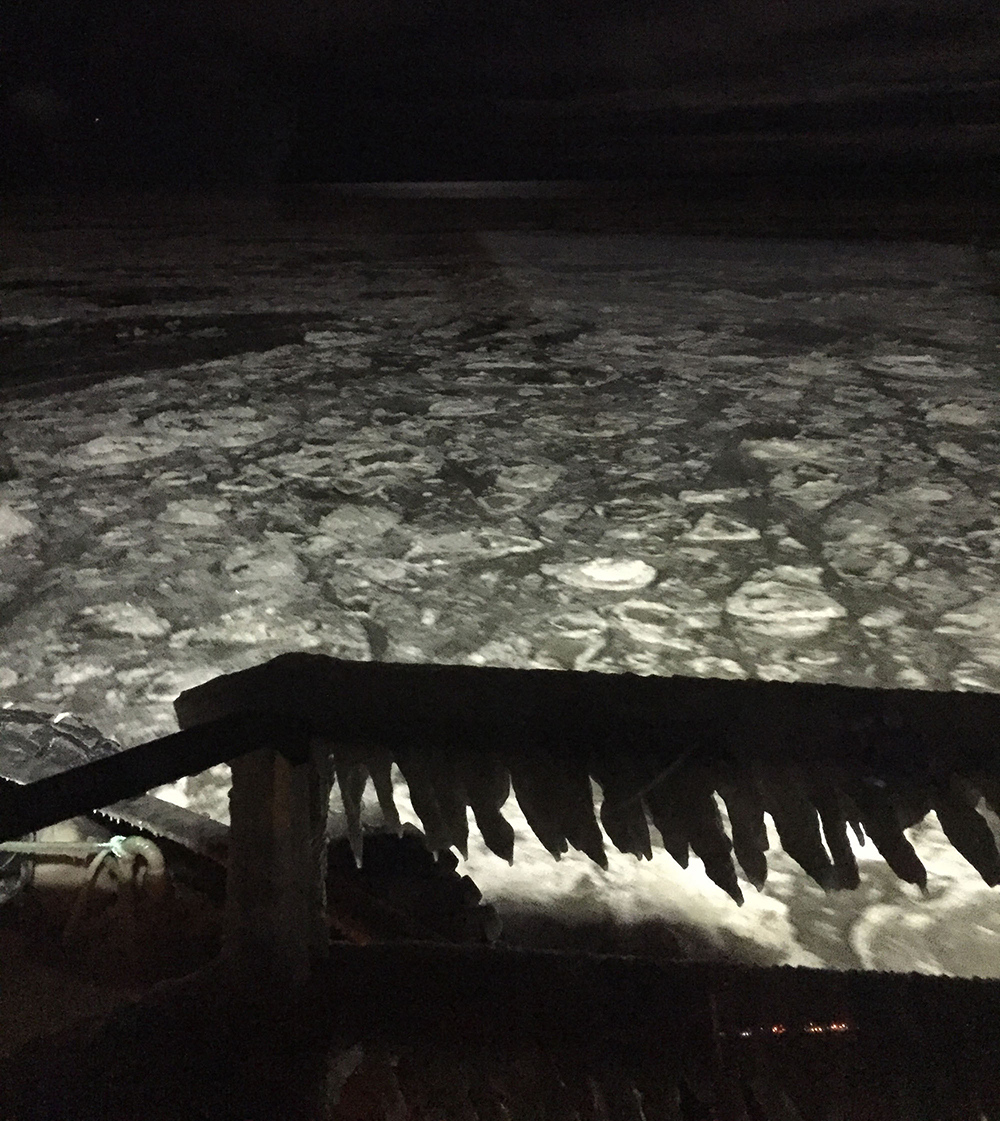 Thanks to a dedicated effort by eTrac, survey efforts were undeterred by the ice and all of the response areas identified following the quake were completed before Christmas. These surveys identified a few new isolated dangers to navigation that were quickly applied to the chart, but thankfully did not find any significant large scale shift on the seafloor that affected shipping routes.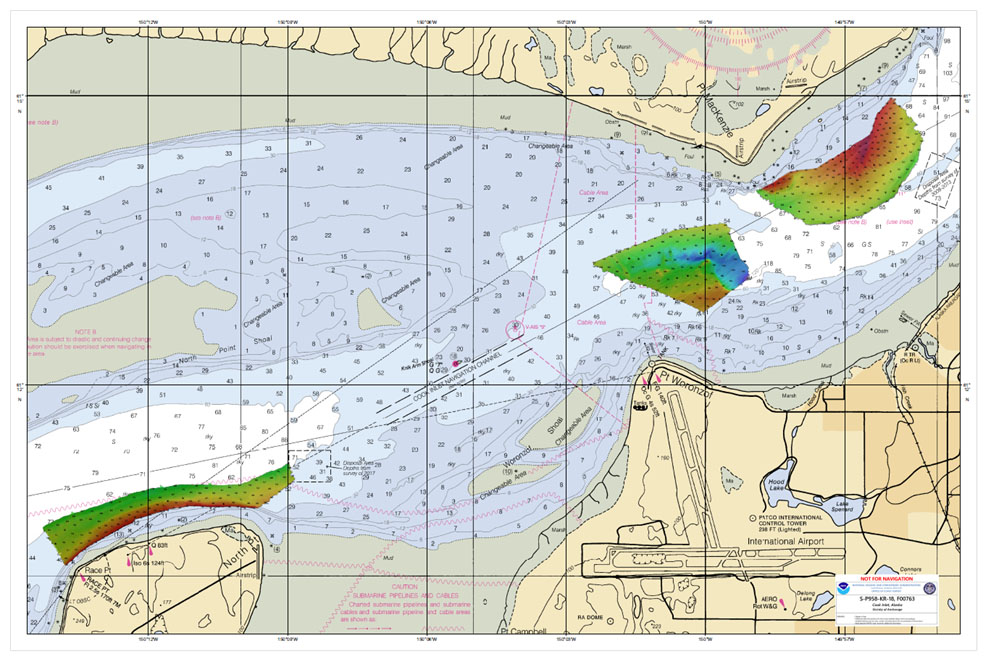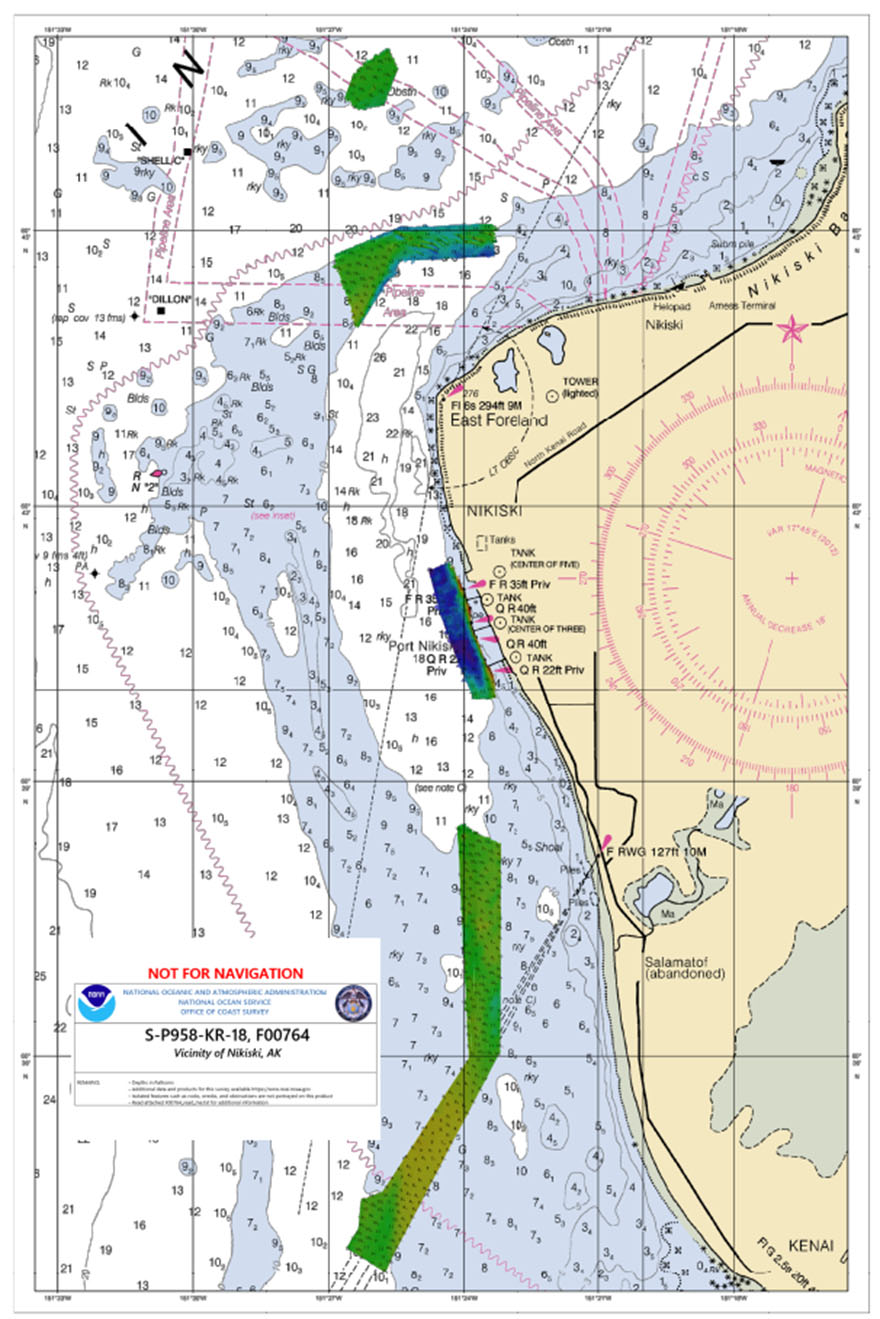 Following an initial communication of these results with the pilots at SWAPA, the data moved to Coast Survey for thorough quality control and application to the NOAA electronic navigational charts (NOAA ENC®).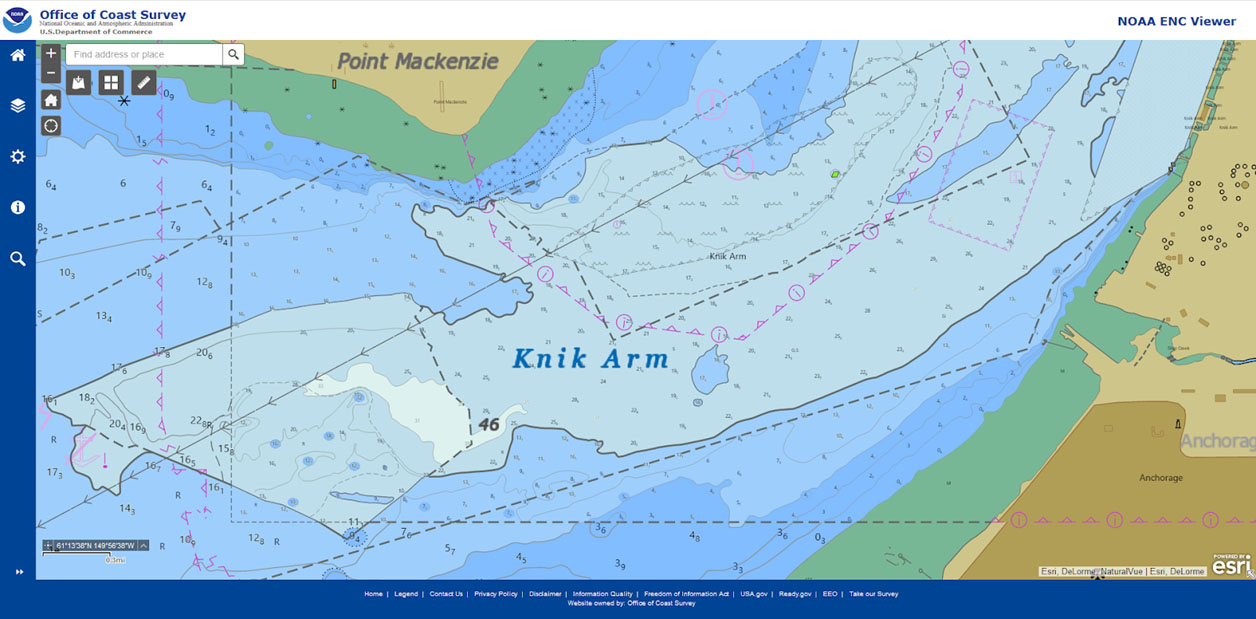 Coast Survey's hydrographic survey contract partners and its strong relationship with other federal and state partners allowed for a quick response in Cook Inlet's challenging environment. Due to these efforts, commerce kept flowing in Cook Inlet, keeping food and supplies on the shelves for the residents of Anchorage.