Hydrographic Surveys Specifications and Deliverables
Hydrographic Surveys Specifications and Deliverables details the requirements for hydrographic surveys undertaken either by NOAA field units or by organizations under contract to the NOAA.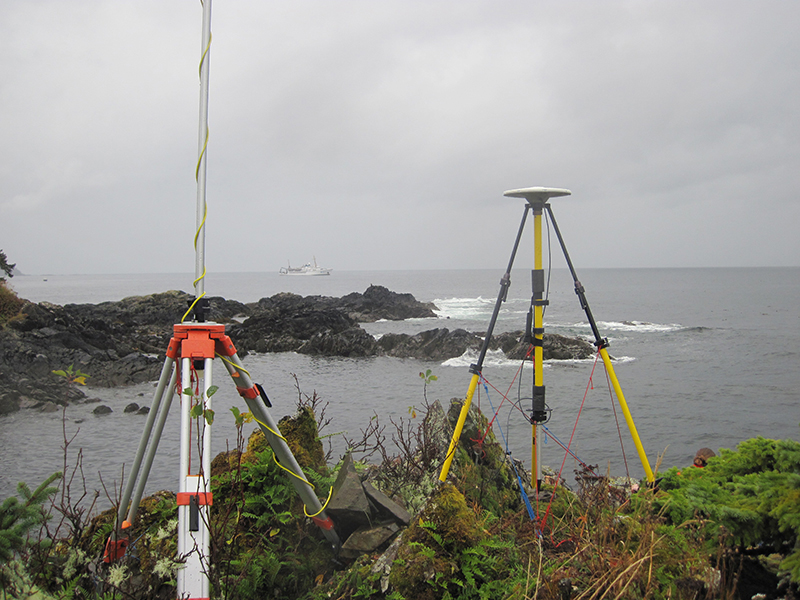 Horizontal control antennas set up to transmit data in Alaska
These specifications are based in part on the International Hydrographic Organization's Standards for Hydrographic Surveys, Special Publication 44. The 2019 edition includes new specifications and changes made since the 2018 version. Those who acquire hydrographic survey data in accordance with NOAA specifications should use the current version.
These specifications define standards and requirements on the following topics:
Horizontal and vertical position uncertainty
Tides and water levels requirements
Coverage and resolution requirements for multibeam, singlebeam, side scan, and lidar data
Features
Required field reporting
Schemas for generating XML Descriptive Reports are available: 2022 XML Schema v1.0
Field Procedures Manual
The Field Procedures Manual provides best practices and standard operating procedures for field units conducting, processing, and generating hydrographic survey deliverables. These guidelines help field units meet specifications delineated in the NOAA Hydrographic Surveys Specifications and Deliverables.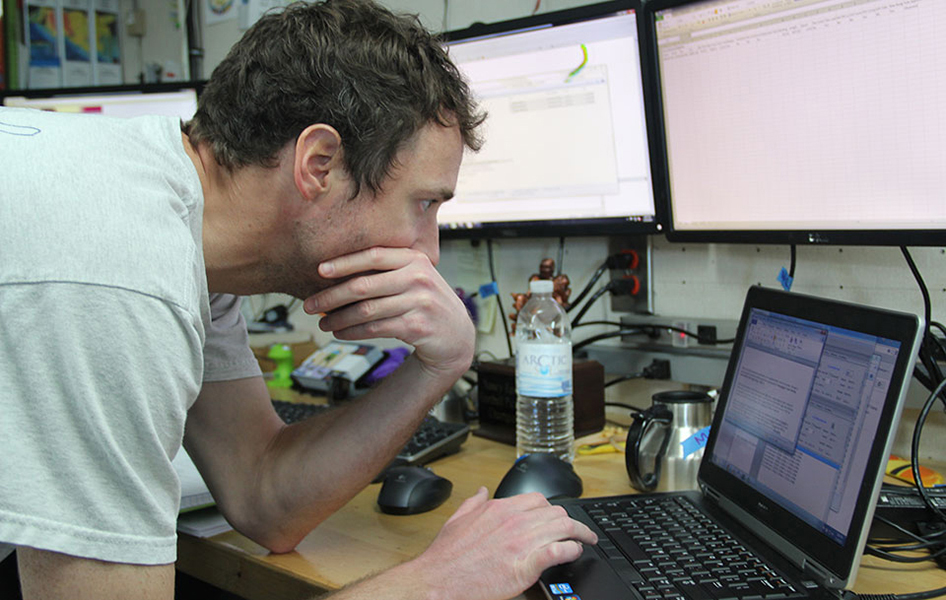 NOAA Scientist analyzing data while surveying on the NOAA Ship Ferdinand Hassler.
Topics include:
System preparation and maintenance, including annual readiness review and periodic quality assurance of hardware and software systems
Survey planning, including safety considerations and project instructions
Data acquisition, including sonar, horizontal and vertical control, and ancillary data.
Data analysis, including software configuration and standard processing steps
The most current version is February 2021. The plan for future updates will be on an annual basis along with the Hydrographic Specifications and Deliverables
Mention of a commercial company or product does not constitute an endorsement by NOAA's National Ocean Service, Office of Coast Survey. Use of information from this publication concerning proprietary products, or the tests of such products, for publicity or advertising purposes, is prohibited.
Hydrographic Manual
The historic National Ocean Survey Hydrographic Manual, Fourth Edition (1976), has been superseded by the NOS Hydrographic Surveys Specifications and Deliverables and the Field Procedures Manual. It is provided here for historical reference.