With NOAA's new Nautical Chart Catalog, users can readily access raster data and charting products in list format. The website serves as a complement to the Chart Locator by providing search capability for any of NOAA's thousand plus nautical charts.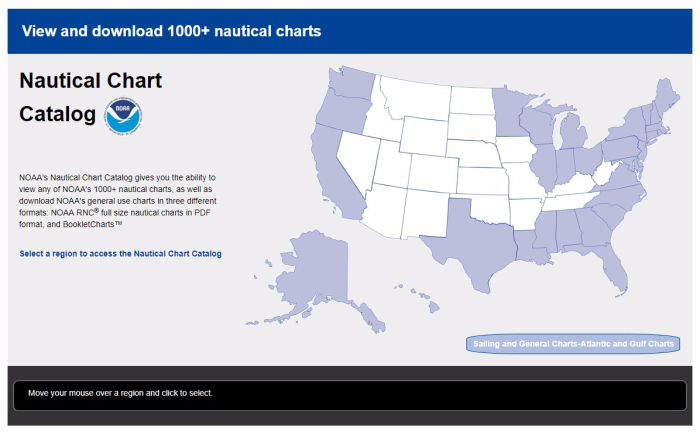 The catalog redesign simplifies the user experience by reducing the number of clicks it takes to access a product. Legacy website data has been consolidated into a single page which makes the searching process a more intuitive user experience. Responsive design has been implemented making the site both desktop and mobile friendly.
Additional searching and sorting functionality has been added to the new catalog to increase product accessibility. The redesign provides the ability for users to find and download NOAA RNC®, full-sized nautical charts in PDF format, BookletCharts™, notice to mariners chart corrections, a list of chart agents, and the ability to view online images of raster (paper) charts. A quick search of the entire chart suite is available on the main page if the user knows the chart number, title, or scale.
Some aspects of the legacy catalog are retained, including the interactive map that separates the catalog into eight main regions. Each region contains several sub-regions derived from the catalog PDF tables and images. The new catalog design provides the flexibility to add more data in the tables in the future.