By Lt. j.g. Michelle Levano, Officer in Charge, Navigation Response Team-Seattle
Navigation response team (NRT)-Seattle continued hydrographic survey work on one of the West's most relentless rivers, the Columbia. The Columbia River is the lifeblood of the regional economy, expanding far beyond the natural divide it provides between the states of Oregon and Washington.
Over $24 billion in maritime industrial revenue flows up and down the river annually. It is the nation's number one wheat export gateway, second in corn and soybean exports, and third largest grain export gateway globally. Additionally, the river sees its fair share of dry bulk goods such as minerals, wood, and auto imports and exports. The mouth of the river experiences about 265,000 cubic feet of water per second. With this rate of flow, the soundings in the river are constantly changing. For a river this dynamic, NRT-Seattle formed dynamic partnerships to safely and efficiently survey the river's additional anchorage locations this spring.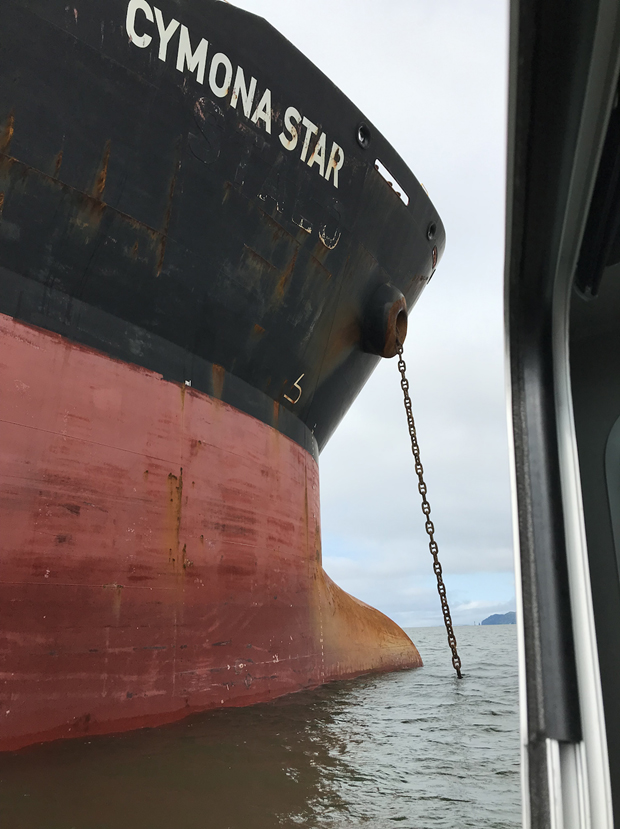 NOAA's Northwest Fisheries Science Center (NWFSC) Point Adams Research Station has been researching the Columbia River estuary, plumes, and biologically rich ecosystem since the early 1970s. The scientists stationed there have a deep understanding of the river's diverse marine mammal, fish, and seabird populations. NRT- Seattle worked with NWFSC staff for boat trailer storage, moorage options, and outboard maintenance. The team saw the staff at various points on the river — at one point having four NOAA boats operating in the same area of the river at once!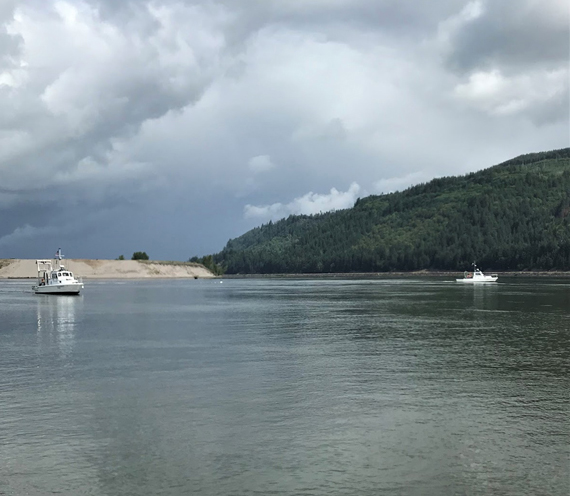 In May, NRT-Seattle hosted Ms. Lori Millonzi from the U.S. Navy Fleet Survey Team based at Stennis Space Center, Miss. (also homeport of NOAA's NRT-Stennis). While the Fleet Survey Team and NOAA NRTs have different missions, their work is parallel. Both teams can quickly deploy to a variety of locations outfitted with the necessary equipment required to conduct hydrographic surveys either from their own vessels, or from vessels of opportunity. In 2014, the Oceanographer of the Navy and NOAA agreed to exchange personnel to leverage expertise to benefit both agencies and provide developmental assignments. Ms. Millonzi has a strong background in math and science, and graduated from the one-year International Hydrographic Organization Category A hydrographer program at the University of Southern Mississippi. Ms. Millonzi assisted NRT-Seattle with data acquisition, processing, routine maintenance, and became an independent coxswain for offshore survey operations by the end of her time with the team.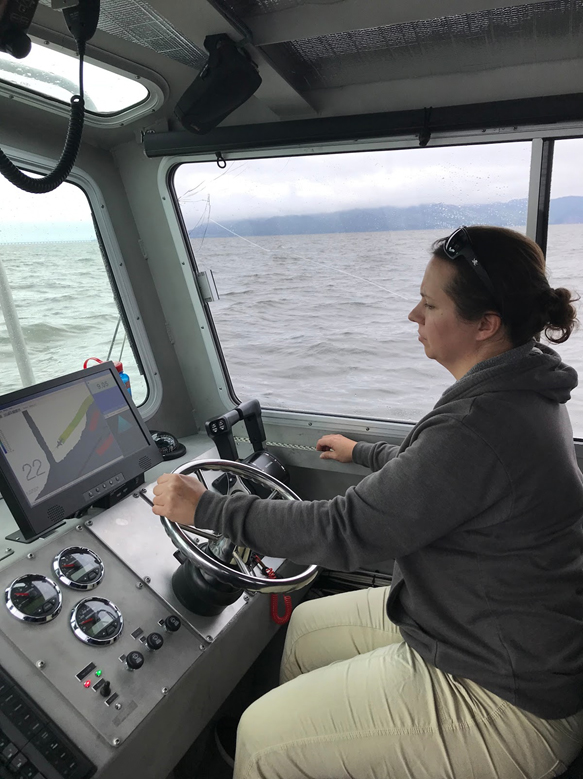 While surveying near Crims Island, the team worked closely with the U.S. Army Corps of Engineers to relocate dredging equipment anchored in the area. Temporarily relocating the equipment allowed the team to survey their assigned area and meet object detection requirements for a potential future anchorage.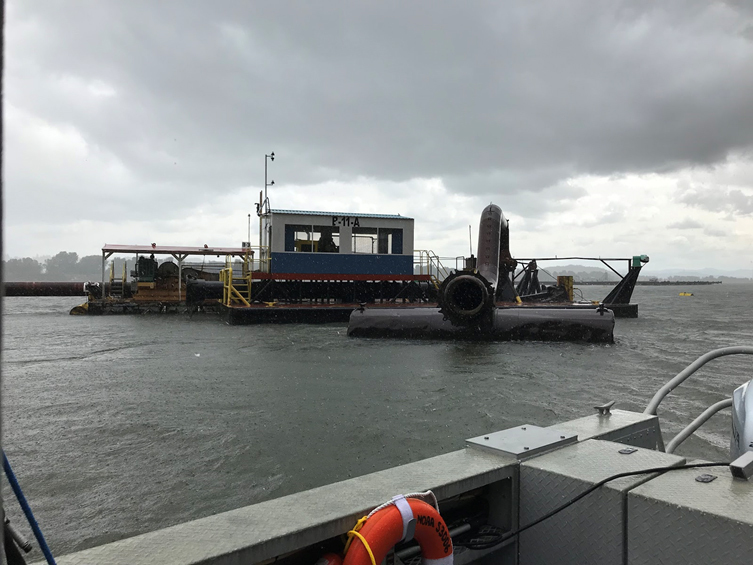 NRT-Seattle returned to the Columbia River later in June with two new team members after a brief stint in their homeport of Seattle. The team hosted augmenters Lt. j.g. Shelley Devereaux from the Hydrographic Systems and Technology Branch (HSTB) and Ms. Rachel Tang from the Coastal Marine Modeling Branch. Both branches are within the Coast Survey Development Laboratory. Lt. j.g. Devereaux and Ms. Tang are working toward a better understanding of the Columbia River and how hydrographic data can be used in a variety of applications.
Lt. j.g. Devereaux serves as HSTB's field support liaison for the Pacific Coast. The branch's mission includes researching new technology, innovating survey techniques and procedures, and providing expertise when field units encounter issues with equipment. During her time with NRT-Seattle, she primarily supported the team with data acquisition and processing.  Additionally, she checked on the acquisition systems and determined how the branch can best support the NRTs in the future.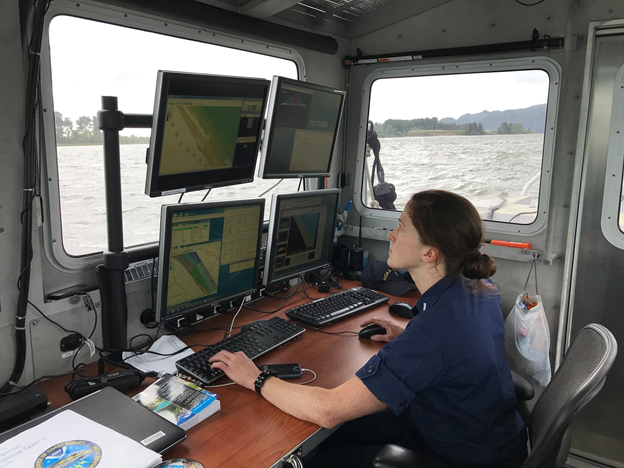 NOAA's VDatum — or Vertical Datum Transformation — is an innovative and evolving software tool that transforms geospatial data among a variety of datums including tidal, orthometric, and ellipsoidal vertical datums. VDatum has broad coastal applications including inundation modelling and mapping for tsunamis, storm surge, flood forecasting, topographic mapping, and of course, hydrographic survey. Ms. Tang has been updating how these models are corrected, and is working to develop high-resolution regional VDatum tide models to resolve major rivers, bays, intercoastal waterways, breakwaters, etc. Ms. Tang happened to mention that she was working on updating the Columbia River modeling prior to the team's departure and was able to join the team. She determined how survey data could be useful to her modeling, gained an understanding of the region, and helped the team collect data.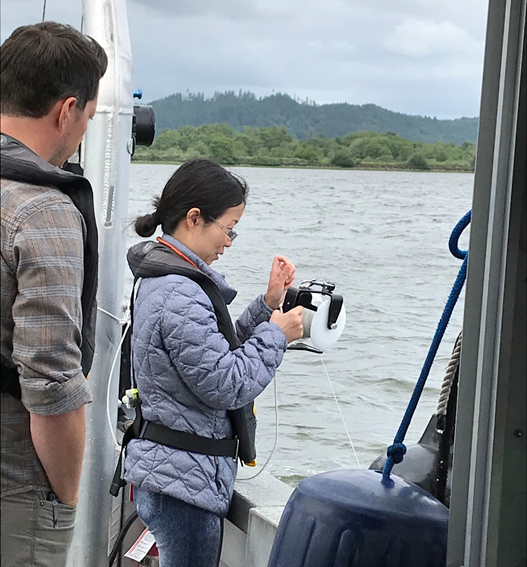 A variety of regions and economies depend on the river, and it takes a variety of groups to ensure stakeholder needs are met. Additional anchorage locations on the Columbia River increases safety and has a direct positive impact on the local, regional, and national economy. NRT-Seattle thanks our partners for helping NOAA meets constituent and stakeholder needs in a timely and efficient manner.
For additional information, please contact Lt. j.g. Michelle Levano, officer in charge NRT-Seattle at ocs.nrt3@noaa.gov.