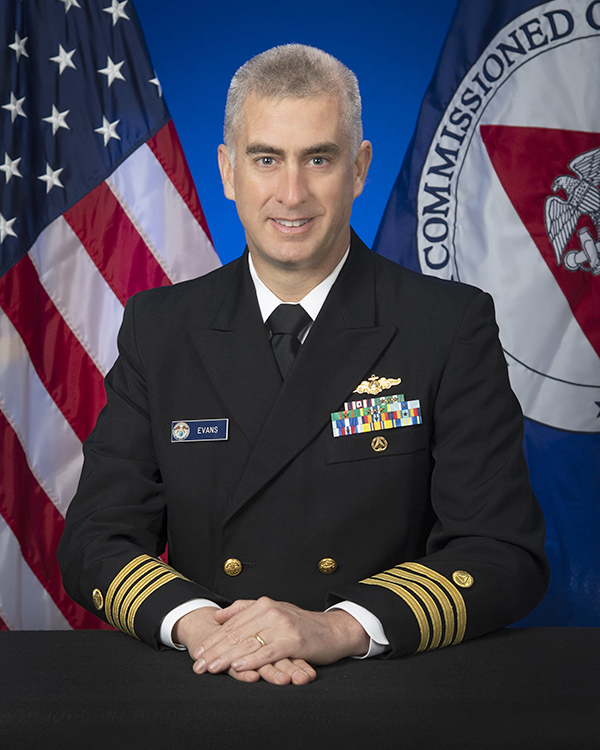 We are pleased to announce that Capt. Benjamin Evans has been selected to serve as the next Director of the Office of Coast Survey. In this capacity, Capt. Evans will lead NOAA's ocean mapping and nautical charting program, continuing the transformation of the agency's navigation services to meet the needs of twenty first century mariners and apply Coast Survey's technical expertise to meet a broad range of requirements for authoritative ocean mapping data. The Director of the Office of Coast Survey also represents NOAA and the United States as the "National Hydrographer" on interagency and international engagements.
Capt. Evans is an experienced hydrographer with over twenty-one years of service in the NOAA Commissioned Corps, most of which has been in the NOAA mapping and charting community afloat and ashore. He has served in a wide range of leadership, technical, and policy roles, including command of NOAA Ships Ferdinand R. Hassler and Rainier, management positions in Coast Survey and the Office of Marine and Aviation Operations, and experience on the staff of the NOAA Administrator.
Capt. Evans holds degrees in Physics from Williams College, and Ocean Engineering from the MIT/WHOI Joint Program where his research focused on uncrewed systems. He, his wife, and their two children recently relocated from Seattle, Washington to Silver Spring, Maryland where they are busy settling back into life in the National Capital Region.
Capt. Evans's selection carries with it a nomination for promotion to Rear Admiral (lower half) in the NOAA Commissioned Corps. The Secretary of Commerce, Gina Raimondo, has approved this nomination, but several additional administrative steps, including White House approval, must be completed before the promotion is finalized and Capt. Evans can assume his new role at Coast Survey. More information will be forthcoming on this exciting transition!