NOAA Ship Rainier has been diligently surveying Deer Passage in the vicinity of Cold Bay and King Cove, Alaska, for the past month.
This navigationally significant area between Unga Strait and Sanak Island provides the only protected route for vessels transiting between the Gulf of Alaska, the very busy Unimak Passage, and the Bering Sea beyond. Deer Passage is heavily trafficked by fishing vessels, coastal freight traffic, and Alaska Marine Highway System ferries, and serves as an alternate route for deep-draft vessels on Trans-Pacific routes between North America and Asia. While in the area, Rainier observed particularly heavy use of the waterway by vessels engaged in local and Bering Sea fisheries, and towing vessels supporting remote Alaskan communities with barge service.
The area was last surveyed between 1911 and 1941, utilizing lead line and rudimentary single-beam sonar technology. Rainier's modern, full-bottom coverage bathymetry will supersede all prior survey data and improve safety of navigation through updated nautical charts. During this year's campaign on this multi-year project, Rainier completed three survey areas north and east of Deer Island and King Cove. Dangers to navigation identified in these surveys will be added to NOAA's charts in the coming weeks, with full chart updates to follow after the data are fully processed and reviewed for quality.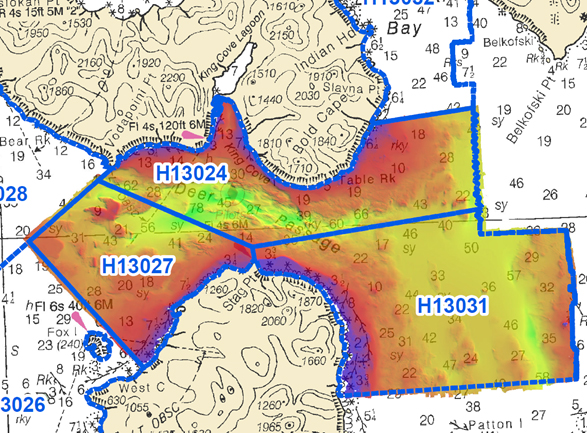 While working on this project, Rainier was very happy to have the opportunity to moor in King Cove for a day to provide tours to the community and students from the local school. The ship and her crew welcomed 151 people on board to show them the good work of NOAA, Coast Survey, and  Rainier.
After Rainier completed 2017 operations in the Deer Passage area on August 30, it transited to Kodiak, Alaska, for re-supply and crew rest over Labor Day weekend. Next, the ship will be heading across the Gulf of Alaska and down the Inside Passage before leaving her survey launches in Seattle, Washington, for a major survey system upgrade while the ship surveys the Olympic Coast National Marine Sanctuary.
Please contact NOAA Ship Rainier's public relations officer ENS Michelle Levano, michelle.levano@noaa.gov, for more information.