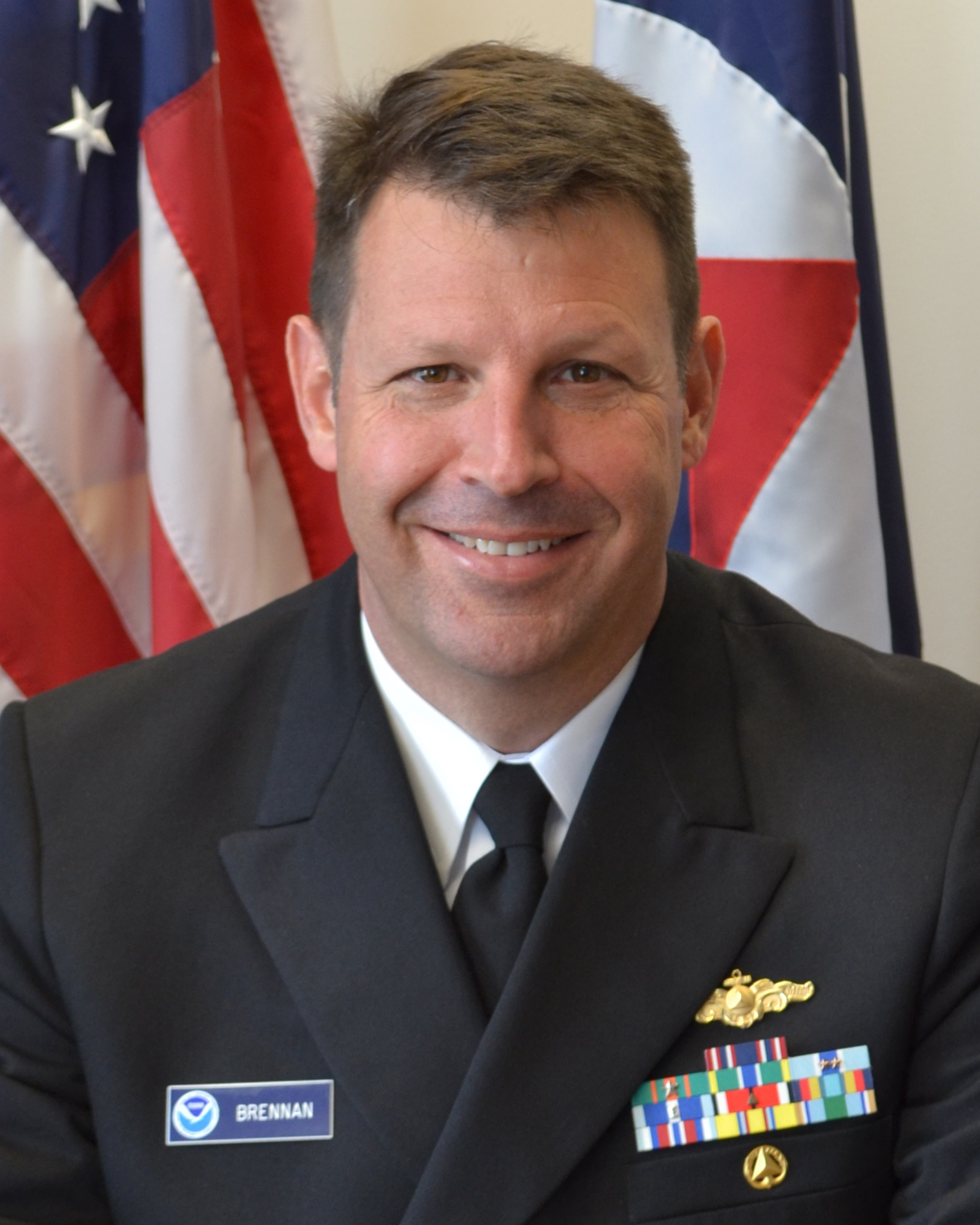 It is with great sadness that we inform you of the passing of Rear Admiral Richard "Rick" Brennan, Director of NOAA's Office of Coast Survey. Rick passed away the evening of Thursday, May 13, 2021. A loyal and deeply empathetic leader, Rick served the NOAA Commissioned Officer Corps and nautical charting community for nearly three decades. Rick will be remembered for his passion for NOAA's mission, as a role model for countless employees, a talented and knowledgeable hydrographer, and a man dedicated to family and friendship.

Rick graduated from The Citadel, in Charleston, South Carolina, with a bachelor of science degree in civil engineering. After a brief stint as a bridge engineer, he was commissioned in the NOAA Corps in January 1992.
Rick's first assignment as a NOAA Corps officer was to the NOAA Ship Rude, a 90-foot hydrographic vessel that was conducting side scan sonar surveys in the Narragansett Bay area. From the beginning, it was apparent that Rick loved hydrography. He worked long hours and showed himself to be technically competent in all phases of the ship's operation. Just as important, the officers and crew aboard the ship liked and respected him. In August 1992, Rick played an integral role in Rude's survey after the grounding of the Queen Elizabeth 2 (QE2) in Vineyard Sound. As a NOAA diver, Rick helped to identify the precise rocks where the QE2 grounded — even recovering metal shards from the ship's hull.
Even at the early stages of his NOAA career, many of us correctly recognized that Rick would go on to do great things for the organization. He had all of the qualities of a great leader; hard working, technically competent, compassionate — and he was genuinely a great guy. – Capt. Nick Perugini, NOAA Retired
Over his 29 years with NOAA, Rick served on nearly every hydrographic ship in the NOAA fleet as well as three years on a mobile field party. His sea assignments include operations officer, NOAA Ship Rude; operations officer, NOAA Ship Whiting; commanding officer, NOAA Ship Rude; executive officer, NOAA Ship Fairweather; and most recently commanding officer, NOAA Ship Rainier. His mobile field party time included a year on a navigation response team and two years as the officer in charge of NOAA Vessel Bay Hydrographer. In addition to his NOAA time at sea, he also was privileged to serve on the U.S. Coast Guard icebreaker Healy as a member of the science team conducting bathymetric surveys in support of the United States Law of the Sea claim. These assignments carried him through the Gulf of Mexico and Caribbean to the Gulf of Maine and from the Oregon Coast all the way up to Chukchi Gap in the Arctic Ocean.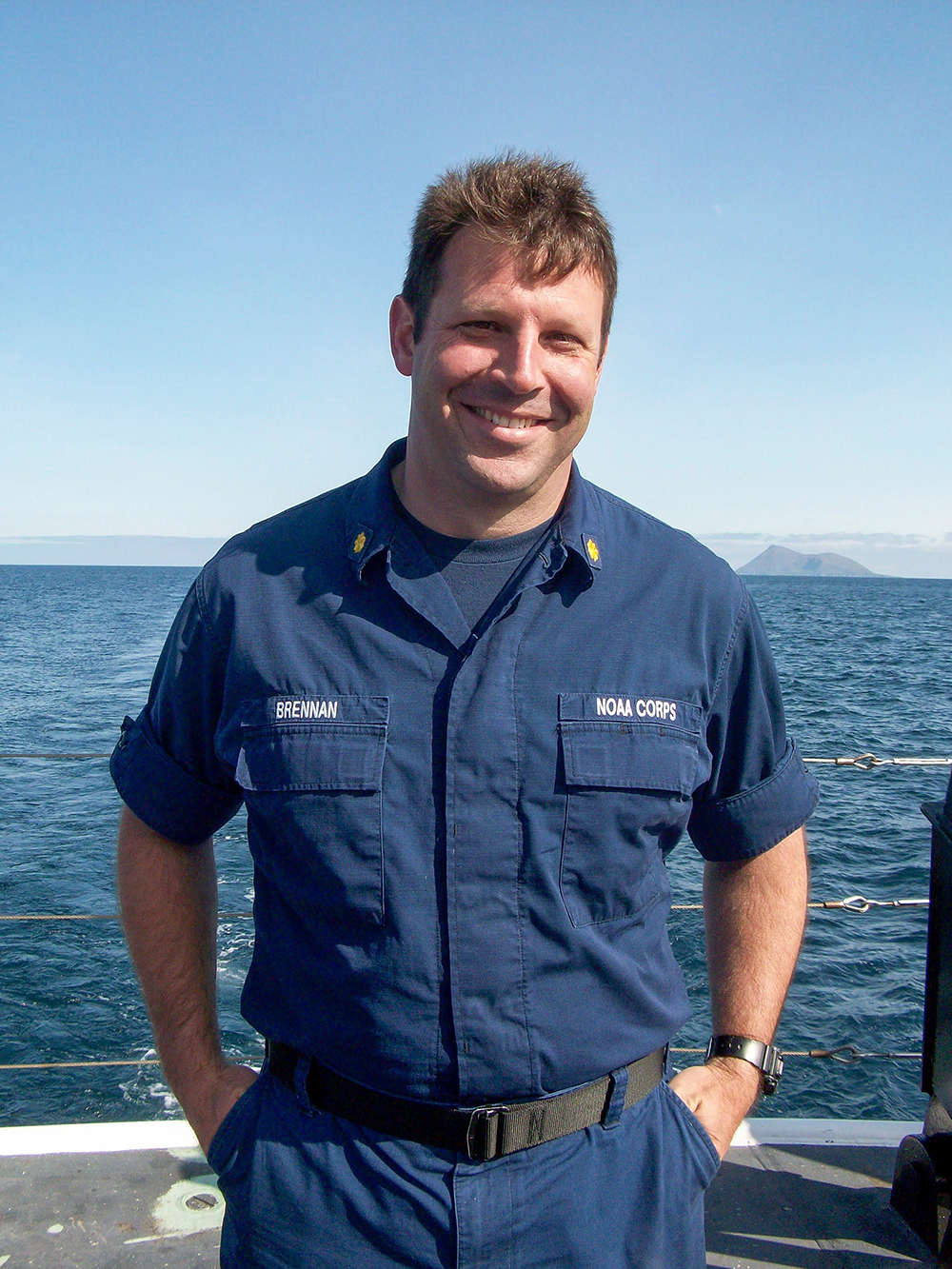 While ashore, Rear Admiral Brennan completed a Master of Science degree in Ocean Engineering at the University of New Hampshire's Center for Coastal and Ocean Mapping. He specialized in ocean mapping, acoustics and tidal error models. After graduate school, he was assigned to lead Coast Survey's Hydrographic Systems and Technology Program. This branch's main responsibility is technical support for the NOAA hydrographic community and transitioning new technology into operations within the fleet. He was awarded the Department of Commerce Bronze Medal in this position for his work implementing the Tidal Constituent and Residual Interpolation (TCARI) program in the hydrographic fleet. Subsequently, Rick served as the chief of the Atlantic Hydrographic Branch (AHB) in Norfolk, Virginia. He provided both leadership and technical direction to a staff of 21 physical scientists who conducted quality assurance and cartographic compilation for all East Coast hydrographic surveys conducted by NOAA, both in-house and contractor acquired.
I was privileged to work closely with Rick, most especially, on the Whiting and at the Atlantic Hydrographic Branch. His ability to bring heart and meaning into everything he did and to those around him so effortlessly was a gift. – Edward Owens, Atlantic Hydrographic Branch
While assigned to AHB, he also served as NOAA's mid-Atlantic Navigation Manager, gathering maritime stakeholders' charting requirements and bringing NOAA assets to bear on their concerns. He earned the NOAA Corps Commendation Medal in this role, and more notably the Department of Commerce Silver Medal for his service during Hurricane Irene in coordinating NOAA resources to open the port of Norfolk. Other recent assignments include serving as the Chief of the Coast Survey Development Laboratory, and senior policy advisor to the Assistant Secretary for Environmental Observation and Prediction at NOAA headquarters. While assigned to the Assistant Secretary's staff, Rick was heavily involved with development of the NOAA Fleet Plan. This effort combined Rick's deep love of ships and the sea with his vision for a modern fleet, and has placed NOAA on a path to sustain and expand its at-sea data collection missions.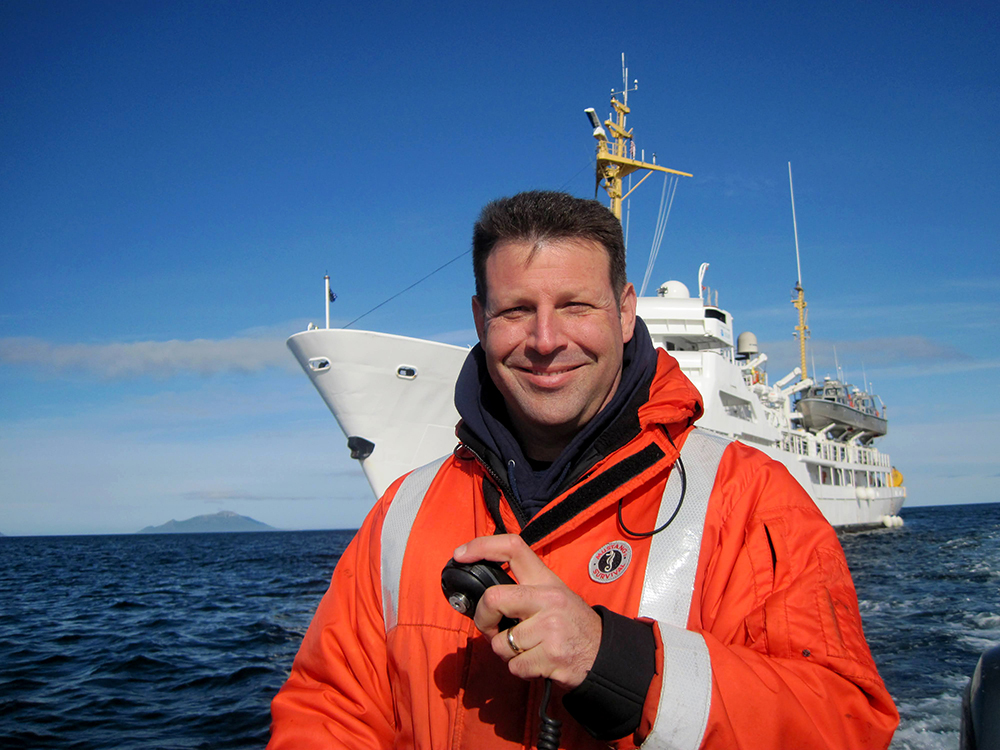 Rick was always so happy and proud of NOAA's hydrographic community, our successes, our passion, and our ability to debate and move forward on new ideas. – Cmdr. Olivia Hauser
Rick's most recent assignment prior to promotion to Director of the Office of Coast Survey was as Chief of the OCS Hydrographic Surveys Division (HSD). At HSD, Rick led the Precision Navigation initiative at NOAA, operationalizing bathymetric and surface water currents products from NOAA's coastal models to make them accessible in marine navigation systems. The U.S. was the first nation to demonstrate this breakthrough implementation of an international standard that has long stymied the global hydrographic community. He was also the driving force behind the National Bathymetric Source project, transforming compilation and delivery of bathymetric data for nautical charting, precision marine navigation, and a wide range of coastal management applications. One of his most notable achievements as Chief was producing the "Mapping U.S. Marine and Great Lakes Waters: Office of Coast Survey Contributions to a National Ocean Mapping Strategy." The plan highlights Coast Survey's contributions to implementing the 2020 National Strategy for Ocean Mapping, Exploring, and Characterizing the United States Exclusive Economic Zone (NOMEC).
Rick was involved in NOMEC from its inception, first helping to draft the strategy, with particular focus on mapping U.S. waters and the standards, tools and techniques to do so. But his real interest was in implementing the plan; in his all-too-brief time as NOMEC Council Co-Chair, Rick dove into his advocacy role for regional campaign mapping, the national security aspects of the effort, and the potential offered by uncrewed systems and other technology improvements to expand mapping efficiently. He was a huge proponent of integrated ocean and coastal mapping, putting action to words with commitments of ship time and resources to campaigns such as EXPRESS (Expanding Pacific Research and Exploration of Submerged Systems). He also understood the importance of sustaining relationships with the private sector, academia and other mapping stakeholders in order to explore the art of the possible, a skill that came naturally to him.
In 2020, Rick was elected President of The Hydrographic Society of America (THSOA). He was promoted to Rear Admiral (lower half) and Director of the Office of Coast Survey on April 20, 2021. Although only serving as Director for a few weeks before his passing, his vision was clear.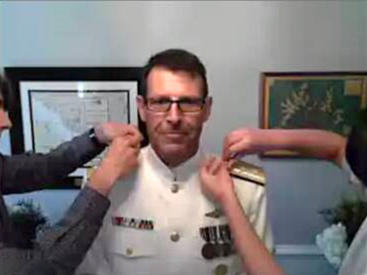 He committed to continue OCS' path towards a more equitable, diverse, and inclusive organization. He led by example by treating everyone with respect and dignity, supporting both professional development and personal well being.
One of Rick's priorities as Director was to reimagine the partnership between NOAA, the U.S. Army Corps of Engineers, and the U.S. Coast Guard. Rick inaugurated the new "Trident" on April 23, 2021, an initiative that is sure to live on as a strengthening of these key relationships.
Rick's leadership was also felt internationally in his role as the new U.S. National Hydrographer. He gave presentations to the Indian Navy before sunrise; discussed product partnerships with friends in the UK in the morning; built relationships with our neighbors in Canada during the day; and met with our colleagues in Asia in the late evening.
Rick firmly believed that another one of his most important leadership roles was to communicate and cultivate passion and excitement about the "why" of hydrography and its importance to the nation and the world, in order to provide clarity and focus about how the work is done.
Admiral Brennan's professionalism and passion shall be his enduring legacy. He will live on in the hydrographic and NOAA Commissioned Corps communities as his vision is carried forward with the same dedicated hard work and collaboration to bring the benefits of service and hydrography to those we serve and to all the world.
I know Rick strived for a better world, and because of him, all of us are better colleagues, family members and above all better humans. His legacy will continue on through his family and his passionate work for NOAA and Hydrography. – Mashkoor Malik