On March 26, NOAA Ship Rainier set sail from Honolulu, Hawaii on a 3,307-nautical mile expedition to the Western Pacific. Originally planned for 2020, this will be the ship's first multidisciplinary expedition to Guam and the Commonwealth of the Northern Mariana Islands. This collaborative mission between NOAA's National Ocean Service and National Marine Fisheries Service will deliver high‐quality data, data products, and tools to the region including a seamless map linking hilltops to underwater depths and integrated data on the surrounding coral reef ecosystems. These data can provide information for countless users to make critical management decisions within disciplines such as habitat management and restoration, tsunami modeling, monitoring, and marine resource management.
"Rainier's deployment to the Western Pacific is an exciting integration of several NOAA missions which breaks down traditional interdisciplinary boundaries," observed Rear Adm. Benjamin Evans, director of the Office of Coast Survey, "It will serve as an example of mapping campaigns envisioned under the NOMEC Implementation Plan and the GEBCO Seabed 2030 project."

This field season, the team will collect high resolution bathymetric data which will update nautical charting products and aid in promoting maritime safety. The team will also collect seabed habitat characterization data, sea surface level measurements, and water-column temperature profiles for baseline data, helping to inform multiple users across a variety of disciplines. Many areas in the region have not been mapped in decades or have never been mapped to modern standards.
Additionally, data collected on this mission by NOAA's Coral Reef Conservation Program will provide long-term, high quality data on coral reef communities, fish populations, and oceanographic conditions to evaluate potential changes in the condition and integrity of coral reef ecosystems in the region. These data are used to inform coral reef resource managers, academic researchers, non-profit organizations, interested communities, and coral reef users.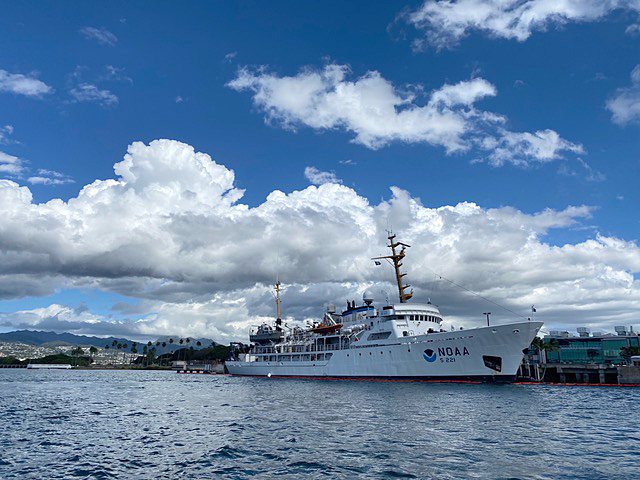 This expedition, the RICHARD (Rainier Integrates Charting Hydrography and Reef Demographics) Cruise, is dedicated to and in honor of the late NOAA Corps Rear Admiral Richard Brennan, former director of the Office of Coast Survey, who passed away in May 2021. Rear Adm. Brennan was the biggest champion of this one-NOAA mission on Rainier between the Coral Reef Conservation Program and the Office of Coast Survey. This expedition would not have been possible without his vision and leadership.
Homeported in Newport, Oregon, NOAA Ship Rainier is operated, managed and maintained by NOAA's Office of Marine and Aviation Operations, which is composed of civilians and officers with the NOAA Corps, one of the nation's eight uniformed services.
To learn about NOAA's complete 2022 hydrographic survey season, visit our story map.