By Ensign Gabriella McGann
After a busy winter in port, NOAA Ship Thomas Jefferson started the 2021 field season in familiar waters, returning to survey the approaches of the Chesapeake Bay. Towards the end of the 2020 field season, the crew of the Thomas Jefferson spent their first 45-day "COVID-19 bubble" on this project. A bubble is formed when crew quarantine and test for COVID-19 prior to crewing the ship, staying isolated onboard until the end of the 45-day period. This protocol is part of the Office of Marine and Aviation Operations (OMAO) COVID-19 mitigation strategy. In April and May of 2021 Thomas Jefferson spent an additional 28 days surveying an area approximately 40 nautical miles east of Virginia Beach, Virginia.
Project overview
These surveys are part of an ongoing, multi-year project to collect hydrographic data to support vessels entering and exiting the Chesapeake Bay, home to several large ports and two of the top 20 container ports in the United States. Data collected will be used to supersede data from partial bottom coverage surveys that date from the 1880s to the 1940s.
To update the previous partial bottom coverage surveys, Thomas Jefferson conducted complete coverage surveys using multibeam echo sounder and side scan sonar on the ship and both survey launches.
Dynamic survey area
The ship is familiar with the operating area, but there were a few unfamiliar faces surveying nearby. These survey and drilling vessels are operating in the area as part of a multi-state alliance to advance offshore wind projects in Maryland, Virginia, and North Carolina waters. Approximately 27 nautical miles east of Virginia Beach, Virginia and 12 nautical miles west of the project area, are two offshore wind turbines, the first approved by the Bureau of Ocean Energy Management (BOEM), and the second offshore wind farm constructed in the United States.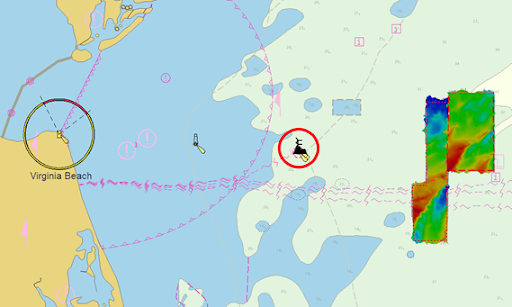 Construction for the two pilot test turbines began in May 2020 and power was first delivered in September 2020. The 112,799-acre lease area will see construction of an additional 188 turbines set to begin in 2024, with an estimated completion date of 2026. Once constructed, the wind farm will generate enough energy to power 660,000 homes. This wind farm is part of the Virginia Clean Economy Act, which has a goal to make Virginia carbon-free by 2045.
Thomas Jefferson's bathymetric data from this 2021 survey will be added to the previous surveys of the approaches to the Chesapeake Bay completed by NOAA ships Ferdinand R. Hassler and Thomas Jefferson in 2012, 2018, 2019, and 2020. The crew is excited to have continued the hydrographic work and see this project closer to completion.