By Lt.j.g. Carly Robbins, junior officer in charge R/V Bay Hydro II
Situated on the east side of the Chesapeake Bay, 162 nautical miles above the Virginia Capes, Elk River is the western approach to the Chesapeake and Delaware Canal. The canal is one of the busiest waterways in the country. It connects the Chesapeake and Delaware Bays, servicing the ports of Baltimore, Wilmington, and Philadelphia. The U.S. Army Corps of Engineers regularly surveys the dredged channels in the approaches and in the canal, but they are not responsible for the remaining waters of the Elk River. The Elk River was last surveyed in the early 1900s, making depths on the nautical chart close to 100 years old! As a result, NOAA R/V Bay Hydro II was tasked to conduct a modern hydrographic survey of Elk River in Spring 2023.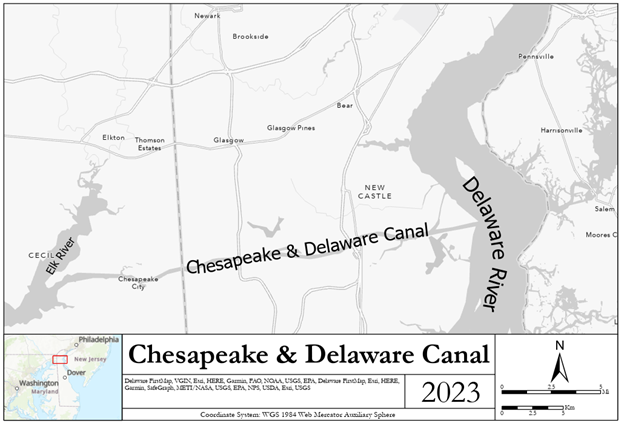 Bay Hydro II firsts
On April 24, 2023, Bay Hydro II departed its Patuxent River, Maryland homeport and embarked on a five-hour journey north to Elk River to kick off the field season. Not only was Elk River Bay Hydro II's first project of the season, but it was also her first travel project since pre-COVID-19. This project was highly anticipated for Bay Hydro II's crew members; Officer in Charge Lt.j.g. Jane Saunders, Junior Officer in Charge Lt.j.g. Carly Robbins, and Physical Scientist Technician Robert Mowery. Lt.j.g. Saunders and Lt.j.g. Robbins joined the crew in 2020 and 2022 respectively, so this was their first travel project on the vessel.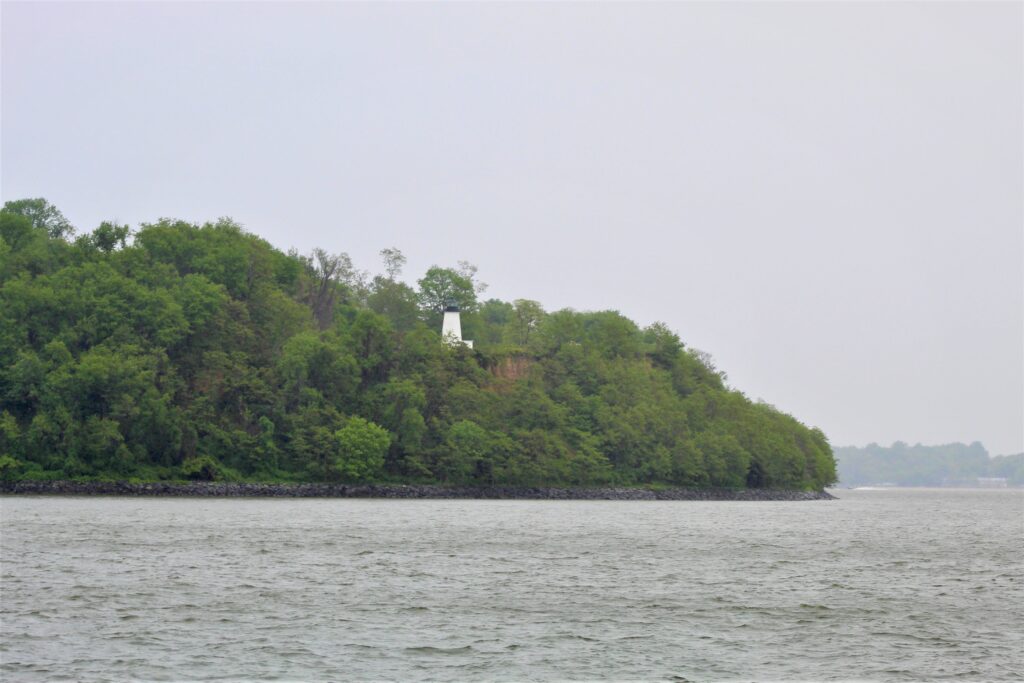 This wasn't the only first for Bay Hydro II since the start of the global pandemic–the Elk River project marks reinstatement of Bay Hydro II's public outreach mission following the pandemic. Though Bay Hydro II participated in local outreach events, the crew had not taken any guests underway. Lt.j.g. Saunders (Washington College '17) reconnected with faculty from her alma mater, and Bay Hydro II was delighted to host environmental science student Emily Coleman (Washington College '23) underway on the final day of the project. All other guests since 2019 have been internal to NOAA filling personnel vacancies or vessel repair contractors.
Lt.j.g. Saunders and Lt.j.g. Robbins explained the basics of hydrographic surveying and updating nautical charts to Emily and demonstrated operations in real time. Emily actively participated, taking conductivity, temperature, and depth casts, which provide sound speed data necessary for acquiring and correcting bathymetric data. She also helped collect bottom samples. Information from these bottom samples is published on nautical charts so mariners can make informed decisions when anchoring.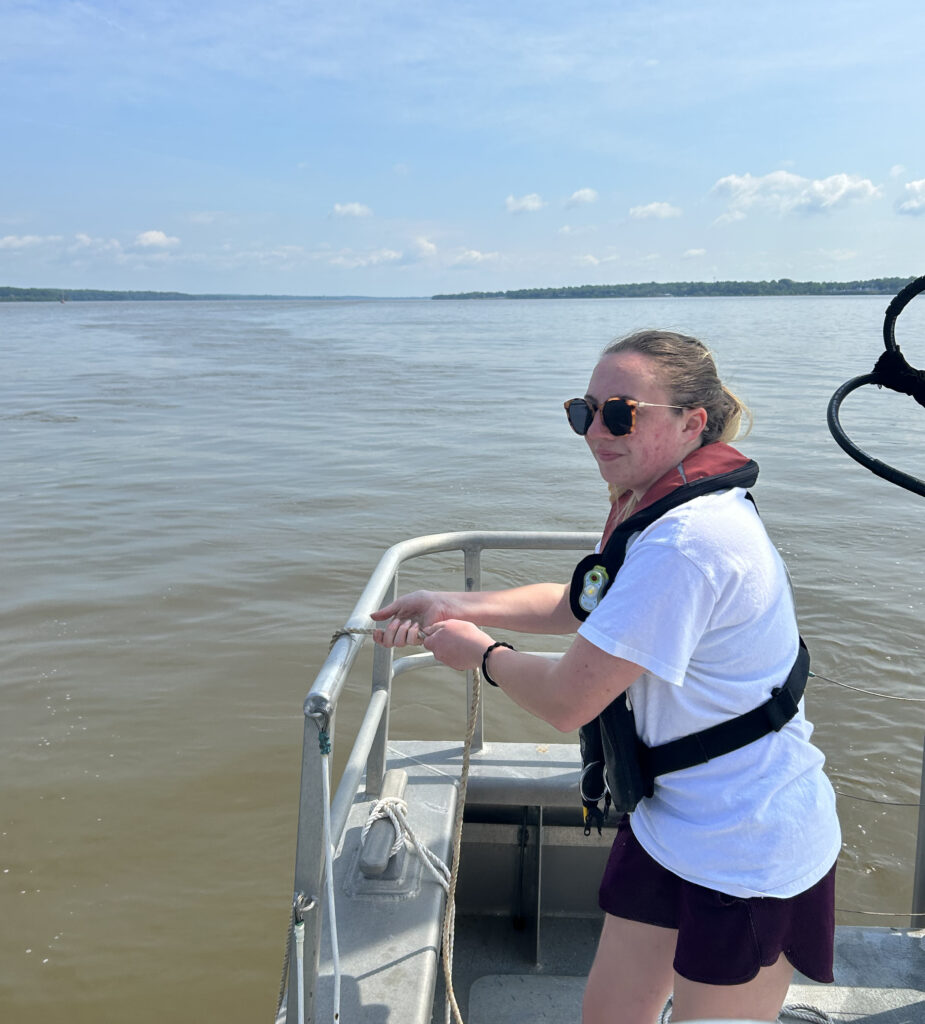 Unbeknownst to Bay Hydro II crew, the Elk River project marked another first of major historic significance to NOAA and the research vessel. On May 8, 2023, Bay Hydro II operated under its first entirely female crew in the boat's 14-year existence. Lt.j.g. Saunders was officer in charge and coxswain, Lt.j.g. Robbins was junior officer in charge and hydrographer in charge, with Emily Coleman as additional crew.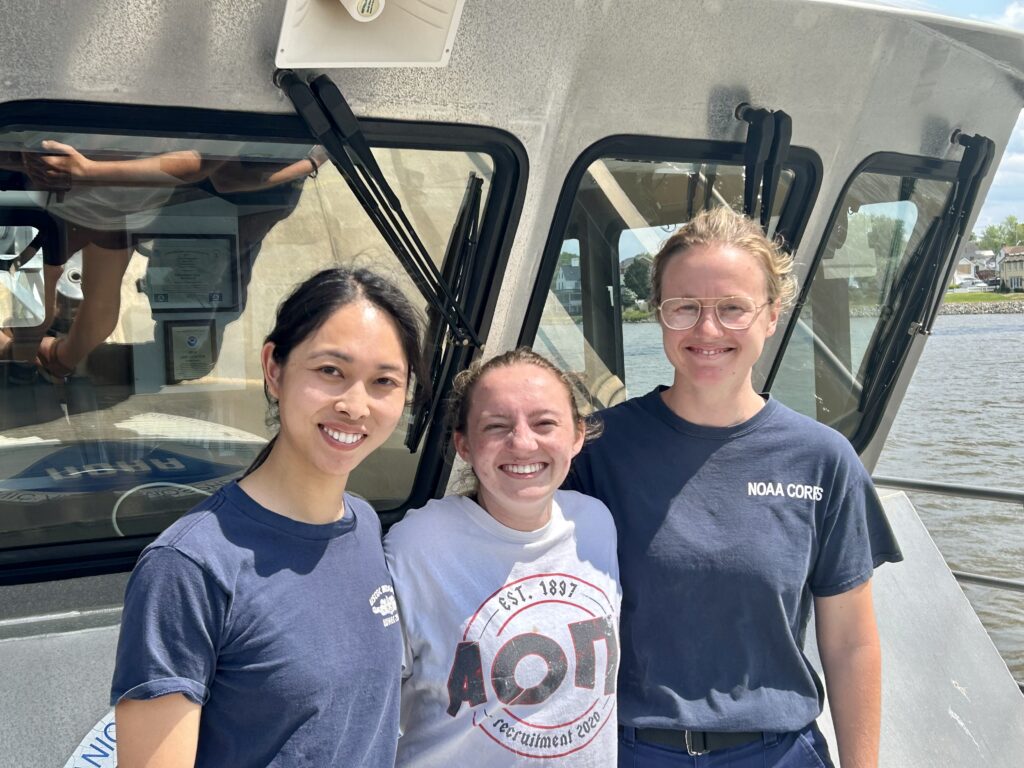 While on this Elk River project, the Bay Hydro II team acquired data over a total area of approximately 5.25 square nautical miles composed of 315 linear nautical miles of survey. This project included areas of high interest, as charted depths were from the early 1900s. Data collected are intended to supersede all prior Elk River survey data.