As the 2020 Atlantic hurricane season came to a close on November 30, NOAA's Office of Coast Survey tallied a few numbers to see what the combined response effort of the navigation response teams, NOAA Ship Thomas Jefferson, and hydrographic survey contractor David Evans & Associates, Inc., looked like.
By the end of the season, Coast Survey responded to five storms — hurricanes Laura, Sally, Delta, and Zeta, and Tropical Storm Isaias — and surveyed more than 1,000 linear nautical miles of waterways critical to the U.S. marine transportation system. This survey data resulted in 20 products that helped the U.S. Coast Guard and U.S. Army Corps of Engineers reopen 11 ports and waterways.
We are proud of our teams both in the field and at headquarters that helped ensure safe navigation for commercial and recreational marine traffic during this record breaking hurricane season.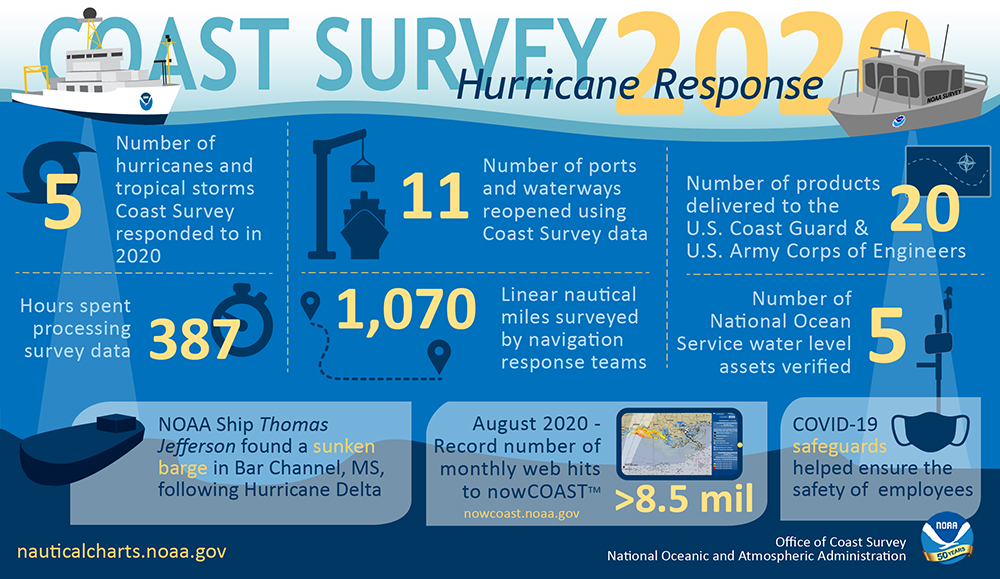 Infographic content:
Coast Survey 2020 Hurricane response
5, Number of hurricanes and tropical storms Coast Survey responded to in 2020
11, Number of ports and waterways reopened using Coast Survey data
20, Number of products delivered to the U.S. Coast Guard & U.S. Army Corps of Engineers
387, Hours spent processing survey data
1,070, Linear nautical miles surveyed by navigation response teams
5, Number of National Ocean Service water level assets verified
NOAA Ship Thomas Jefferson found a sunken barge in Bar Channel, MS, following Hurricane Delta
>8.5 mil, August 2020 – Record number of monthly web hits to nowCOAST™, nowcoast.noaa.gov
COVID-19 safeguards helped ensure the safety of employees