NOAA's Office of Coast Survey is the nation's nautical chartmaker, and maintains a suite of more than a thousand nautical charts. Coast Survey is responsible for charting U.S. waters and Great Lakes covering 3.4 million square nautical miles (SNM) of water and 95,000 miles of coastline.
NOAA's hydrographic survey ships along with hydrographic contractor vessels, recently kicked off the 2019 hydrographic survey season. These surveys not only update the suite of nautical charts, but also help to maintain the safety of maritime commerce, recreational boaters, natural ecosystems, and much more. Operations are scheduled for maritime priority areas around the country and are outlined in Coast Survey's "living" story map. Here is a list of where they are headed this year: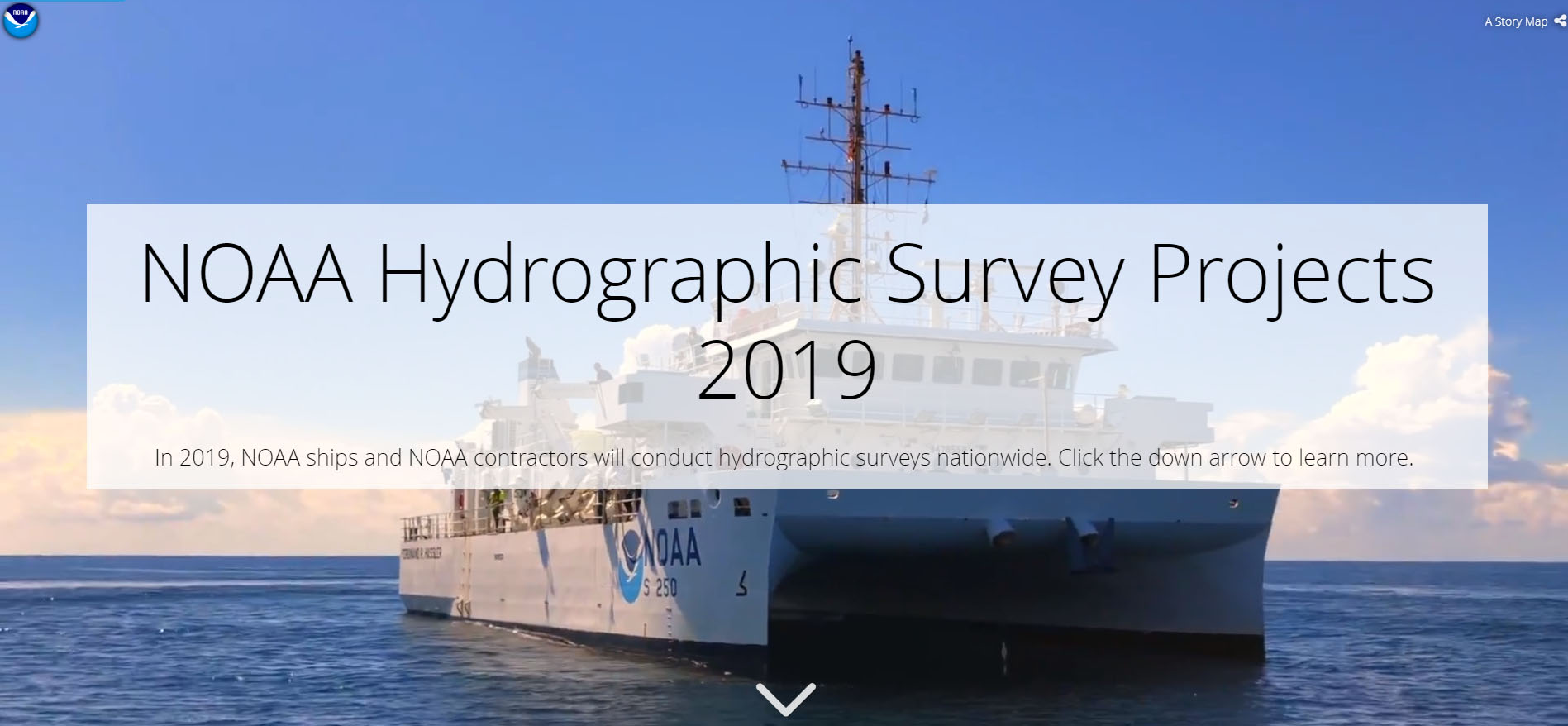 Atlantic Coast
Jacksonville, FL, survey will provide modern bathymetry to update 1970s vintage surveys in the approaches to the Port of Jacksonville. The port is undergoing an expansion project that will widen the river channel and turning basin. This survey will assure adequate underkeel clearance to accommodate deep draft vessels.
Gulf of Mexico
Approaches to Houston, TX, survey covers approximately 1,100 SNM between the Galveston Bay and Sabine Bank channels, an area of high oil production activity and large traffic volumes. This area was last surveyed in 1963.
Flower Garden Banks National Marine Sanctuary survey project will support the Bureau of Ocean Energy Management and the sanctuary in their efforts to effectively protect ecologically sensitive and important areas within the northwestern Gulf of Mexico. This survey will aid in the protection of ecologically significant communities and will enhance navigational safety.
Mississippi River survey is a continuation of a 2018 project that includes the Port of South Louisiana, the Port of New Orleans, the Port of Greater Baton Rouge, and Plaquemines Port. The ports of the southern Mississippi River represent the largest port complex in the world and one of the most heavily trafficked waterways in the United States.
Port Arthur, TX, survey project will address concerns of migrating shoals and exposed hazards by updating bathymetry for 286 SNM of seafloor. The Port of Port Arthur hosts the Motiva refinery, the largest oil refinery in the United States.
Corpus Christi, TX, survey project will identify hazards and changes in bathymetry, providing contemporary data to update nautical charting products in Corpus Christi Bay, including the Corpus Christi Shipping Channel and offshore approaches.
Chandeleur, LA, survey project is part of a multi-year approach to update charts in this area. It includes approximately 350 SNM of survey area located offshore of the Chandeleur Islands in the northern Gulf of Mexico. The Chandeleur Islands is an active oil and gas exploration area, contains a popular fishing ground, and includes the Breton National Wildlife Refuge.
Apalachicola, FL, project will provide contemporary surveys to update nautical charts and products offshore of Apalachicola Bay and Joseph Bay. The survey will provide updated bathymetry and feature data to address concerns of migrating shoals, thus reducing the risk to navigation within the project area.
Approaches to Louisiana survey will provide contemporary hydrographic data to update nautical charts and products covering a 406 SNM area. The survey area supports an energy industry containing numerous resource extraction platforms and pipelines, and the marine traffic servicing these facilities. The regional ecosystem supports commercial and recreational shrimping and fishing industries.
Alaska
East coast of Kodiak Island survey project will update Chiniak Bay, the gateway to Kodiak Island, which currently has a survey dating back to 1933. The area of Chiniak Bay supports the second busiest and third richest fisheries port in Alaska. In 2012, an Army landing craft grounded here while outbound to deliver goods to a remote village in western Alaska.
Lisianski Strait and Vicinity needs updated survey data for this important route of the Alaska Marine Highway ferry system. Lisianski Strait and Inlet are navigationally complex and heavily trafficked by recreational boaters, yachts, and smaller tug and tow traffic. The vast majority of Lisianski Inlet was last surveyed in 1917.
Cape Newenham survey will cover 315 SNM to update nautical charts in the area as well as support commerce to the northern Bristol Bay region. Ship and barge traffic delivering industrial, consumer, and energy products to the communities of northern Bristol Bay, or continuing north to the Etolin Strait, must transit around these capes. Marine commerce is critical for the survival of these western Alaskan communities as they are detached from the rest of the state highway system.
Kuskokwim Bay surveys will allow for shorter routes in the area, increasing the safety and efficiency of vessel traffic. This work will also directly support the maritime services available to the native communities of Kwigillingok and Kongiganak.
Pacific Coast and Hawaiian Islands
Hawaiian Islands and Vicinity project will update nautical charts and products in this 650 SNM project area that is heavily trafficked by container ships, tankers, barges, commercial and recreational fishing vessels, and tourism industry vessels. Kahului, Lahain,a and Kaunakakai Harbors all support various commercial and recreational activities, while the Pailolo channel supports inter-island commerce. Modern bathymetry will also support the Seabed 2030 global mapping initiative.
Channel Islands National Marine Sanctuary survey will focus on the remaining survey area around Santa Cruz Island, the largest of the Channel Islands. The data from this project will provide seafloor habitat information to support fishery and resource protection mandates and to update nautical charts in the area.
Great Lakes
Mackinac, MI, survey project is located in the Straits of Mackinac, which includes both the western Lake Michigan and the eastern Lake Huron regions. Straits of Mackinac acts as a major shipping channel for the area. The survey area is 317 SNM and covers the nearshore areas of Mackinac, Round, and Bois Blanc islands, as well as the St. Ignace area of the mainland of Lake Huron.
NOAA's four hydrographic survey ships –Thomas Jefferson, Ferdinand Hassler, Rainier, and Fairweather – are operated and maintained by the Office of Marine and Aviation Operations, with hydrographic survey projects managed by the Office of Coast Survey.
---
NOAA's navigation response teams also conduct routine hydrographic surveys during the field season. Due to the nature of their emergency response duties, however, their survey plans are subject to change. A preliminary list of their survey plans is below:
Northeast Atlantic
Barnstable, MA
Long Island Sound inlets including: Shinnecock, Moriches, Jones, and Fire Island
Coney Island Channel
New York Harbor
Eastern Long Island Sound
Mid-Atlantic
Southeast Atlantic
Quimby Inlet and Lynnhaven Inlet, VA
Brunswick, GA
North Miami Beach, FL
Intracoastal Waterway
Gul of Mexico
Galveston Bay and Port Arthur, TX
Mississippi Sound
Apalachee Bay, FL
Pacific Northwest
Columbia River Anchor Areas
Bellingham, Tacoma, and Bremerton, WA
Great Lakes